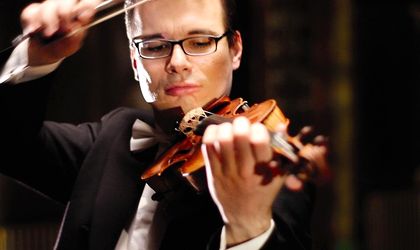 Romanian violinist Alexandru Tomescu together with actors Ana Pepine and Paul Cimpoieru will deliver on January 14, at the Bucharest National Opera, a performance of Eugène Ysaÿe's obsessions: the music of the Six Sonatas for a solo violin.
Eugène Ysaÿe's Six sonatas for solo violin, Op. 27, is a set of sonatas for unaccompanied violin written in July 1923. Each sonata was dedicated to one of Ysaÿe's contemporary violinists: Joseph Szigeti (No. 1), Jacques Thibaud (No. 2), George Enescu (No. 3), Fritz Kreisler (No. 4), Mathieu Crickboom (No. 5), and Manuel Quiroga (No. 6).
The concert is held for the Romanian Special Olympics Foundation, helping the disabled sportspeople to participate at the Special Olympics World Winter Games 2013, which will take place in PyeongChang, Korea. Romania's delegation will include ten sportspeople who will perform at alpine skiing, snow skiing and riding snowshoe.
Tickets can be bought from the Eventim network – Vodafone, Germanos, Orange, Domo, Humanitas bookstores, Cărturești bookstores, Sala Palatului and online at www.eventim.ro.
Oana Vasiliu