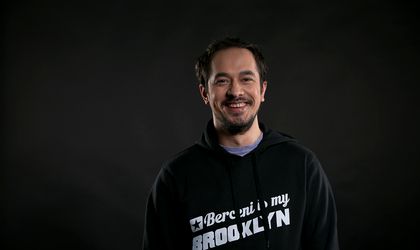 Eugen Suman, creative director at Kubis Interactive, is representing Romania in the Golden Hammer 2016's Jury. The 17th International Advertising festival Golden Hammer – Annual Mirroring of True Advertising will be held on June 3rd, the competition and the creative conference returning to the beautiful Jūrmala seaside resort, just 20 minutes' drive from capital city Riga.
The programme of the 17th Golden Hammer affirms its well-established position as the region's major international advertising festival with a full schedule of seminars, and, of course, an awards event whose coveted awards are adjudged by juries of authoritative industry professionals.
The Festival Competition will continue its tradition of rewarding works with particularly creative ideas and originality that grab audiences and make a key contribution to brand value.
The submitting process begins February 16th and last until April 15th.
"The Golden Hammer 2015 festival was justly proud of our highly professional, multi-national jury. We intend to build on that in 2016, when competition entries will be judged by your industry peers from numerous countries, from both major networks and outstanding independent creative agencies," said the festival representatives.
The confirmed jury members so far are:
Matt Ryan, Mentor and freelance Creative Director, United Kingdom
Folker Wrage, Chief Creative Officer, Havas Worldwide, Switzerland
Michael Preuss, Creative Director and Founder, Preuss und Preuss, Germany
Ulrich Proeschel, Global Business Development, Digital Arts Network, TBWA\Worldwide, Germany
Hilary Jeffrey, President EMEA, PHD, United Kingdom
Muggie Ramadani, Creative Director and Partner, Bold Copenhagen, Denmark
Desiré Engström, Copywriter, Åkestam Holst, Sweden
Aive Hiiepuu, Managing Director and Partner, PRConcept, Estonia
Voldemārs Dūdums, Independent Creative, Latvia
Peter Michalka, Unit Creative Director, MUW Saatchi & Saatchi, Slovakia
Rimantas Stanevičius, Creative Director, Milk Vilnius, Lithuania
Nicolas Zeuss, Design Director, Landor Moscow, Russia
Renos Demetriou, Founder of Creative Club Cyprus and Chief Creative Officer of ConversionPros, Cyprus
Catherine Movold, Director, Experience Design, Making Waves, Norway
Eugen Suman, Creative Director, Kubis Interactive, Romania
Dmitry Tarnovsky, New media invention director, Mindshare, Russia
Antero Jokinen, Founding partner & Creative Director, 358 Helsinki, Finland
Jonas Dahlquist, Chief Executive Officer, Starcom, Sweden
Vince Pataky, Head of Digital, JWT Budapest, Hungary
Denis van Leeuwen, Chief Strategy Officer, Carat Amsterdam, Netherlands
Christina Forsgård, Chair and Partner, Netprofile Finland, Finland
Moreover, according to the festival representatives, the list will soon to be expanded to 28 creative industry professionals.
Romanita Oprea