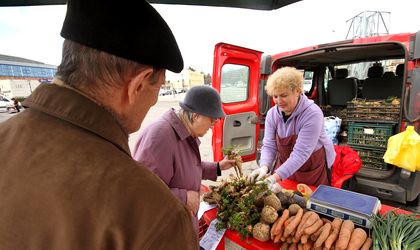 Some 58 percent of Romanians have heard of the support EU makes available through the Common Agricultural Policy (CAP) and out of this, 13 percent know detailed information, more than the EU average of 8 percent, according to a recent EU survey on the reform of the CAP. Overall, some 92 percent of Romanians consider that agriculture and rural areas are an important topic for their future.
The survey has also revealed that 89 percent of Romanians consider that the initiative to support young farmers through the CAP is very good, 78 percent believe that the CAP benefits all citizens and not just farmers and 56 percent stress as main benefit the contribution it brings to the economic development of rural areas.
At EU level, over three-quarters (77 percent) of Europeans believe the CAP benefits all EU citizens and over 90 percent support the main trends of the new CAP. These include making aid fairer and more targeted (92 percent) and linking it to adhering to environmentally-friendly farming practices ('greening', 91 percent).
The CAP is the oldest EU policy. In November 2013, the European institutions finalized an agreement on CAP reform for the period 2014- 2020. The future CAP will be "greener, fairer and more sustainable", according to the EU Commission. A total of EUR 373.2 billion will be allocated to the common agricultural policy between 2014 and 2020, representing the largest cost item in the European budget.
Between 2014 and 2020 Romania will receive EUR 8.15 billion from the EU for its National Rural Development Program and another EUR 10.6 billion in direct payments.
Simona Bazavan