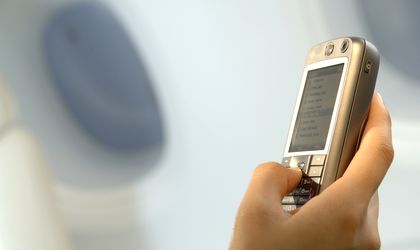 From July 1, lower roaming tariffs will come into force in Romania. However, the unpopular surcharges on mobile use abroad might become a thing of the past in the EU from next year as the EC has put on the table plans to scrap them completely. This means customers would no longer pay extra for making or receiving calls abroad than they would normally pay at home.
By Otilia Haraga
On July 1, new roaming tariffs come into force, lower than the ones in effect at the moment, as announced by the European Union (EU).
From now on, European consumers will have to pay 24 eurocents per minute (VAT not included) for outgoing calls, 17 percent less than they had to pay last year.
For incoming calls, customers must pay 7 eurocents per minute, (VAT not included), 12.5 percent lower than the tariffs charged in 2012.
When sending an SMS abroad, customers will have to cough up 8 eurocents (VAT not included), an 11 percent decrease on last year.
Last but not least, for internet and data transfer services customers will be charged 45 eurocents per megabyte (VAT not included).
Thus, the EU has also cut roaming tariffs for data transfer by 36 percent. Consumers can use maps, see videos, check their e-mail and update their status on social networks when travelling in the EU at cheaper prices.
Tariffs for data transfer in roaming have plummeted by 91 percent in 2013 compared to 2007, while the volume of data in roaming has hiked by 630 percent, according to the EU.
"Next year, the only thing we know for sure is that from July 1, 2014, roaming services can be sold separately, according to the current regulations," says Catalin Marinescu, president of ANCOM.
Operators in Romania are charging tariffs that are in accordance with the maximum limitations imposed by European norms. From July 1, they too will have to comply with these new rules.
Meanwhile, the European Commission (EC) has proposed a plan to eliminate mobile roaming charges within the European Union altogether from July 1, 2014. If the bill is passed, consumers will pay the same for calls to or from other countries as they do in their home country.
According to an article in British paper The Telegraph, 27 European Commissioners voted in favor of banning roaming charges for calls, texts and mobile data, which could be enforced as early as July 2014. The measure is part of the EU's plan to create a unified telecom market within its confines, reports the paper.
EU commissioners expect scrapping roaming taxes to wipe 2 percent off mobile operators' revenues, but on the long term it should bring them more revenue since people will be using their mobile phones more abroad, particularly to access the internet. They also expect the measure to create more competition among operators.
An inside source quoted by The Telegraph stated that the EC believes there are too many companies offering services across the 27 member states and that this fragmentation is a barrier to badly-needed investment.
"There are around 100 operators in Europe and only four in the US. That's not sustainable if we're going to have a single market and investment. Europe has less 4G mobile broadband than Africa at the moment," stated the source, quoted by The Telegraph.
In Romania, the telecom watchdog president said, "It is premature to comment on this proposal as we have not been officially informed of this initiative and we do not know its content." 
Business Review asked the four main mobile operators in Romania to comment on the issue; however, all four declined. The jury is still out regarding what effects it will have on the local market and the telecom operators.
"At European level, network investments did not decline as a result of regulating international roaming services. On the contrary, mobile networks' investments in the EU surged once new bands were granted in the 800 MHz and 2600 MHz frequencies and with the implementation of new technologies such as 3G, LTE/4G," said Marinescu.
Similarly, in Romania there was no drop in operators' investments after some competition-related issues were regulated. Marinescu says that, on the contrary, the situation improved, and a healthy competitive environment took shape.
Data from the Romanian telecom watchdog show that last year revenues from retail voice services, SMS and data roaming amounted to approximately EUR 100 million in Romania.
Marinescu estimates that, if the proposed EU draft makes it into law, there will be growth in voice and data traffic in roaming.
"Total voice traffic in roaming increased in 2012 by 11 percent to 359 million minutes. From this amount, 265 million minutes were received calls, up 17 percent on the previous year. However, calls made in roaming decreased by 2 percent to 94 million minutes. Regarding internet access and data transfer in roaming in 2012, the total traffic saw a 94 percent hike, reaching 13,800 GB," commented Marinescu.
otilia.haraga@business-review.ro