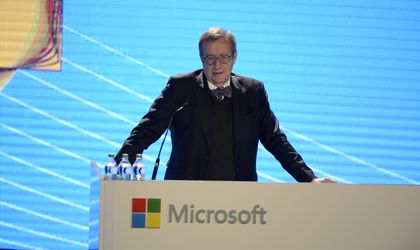 During his ten-year term as president of Estonia, between 2006 to 2016, Toomas Hendrik Ilves made the digital transformation of Estonia his priority. Today, the Baltic country is a leading example of a digitalised nation, with wide implications at society level. In Bucharest, as a speaker at the 2017 Microsoft Summit he drew attention to the gap that exists between the pace of digitalisation in the private and the public sector by sharing personal experiences and introduced to the public the x-Road, the data exchange layer for information systems, the backbone of the country's administration system.
Closing the gap between the private and public sectors
In January 2016, the former president of Estonia joined Stanford University as a visiting fellow. His experience in dealing with the public sector in Palo Alto, the epicentre of digital innovation, shows that the public administration sector still has a lot to do to catch up with the public sector, even in the most economically developed countries in the world. "I've spent the last 20 years on digitising the country. When my term was up I was invited to Stanford to see the Mecca of innovation. I lived and worked in a  place where you have Apple, Google, FaceTime and Tesla headquarters. When enrolling my daughter to school, I was required to drive to the district headquarters and drop a paper. There, I told the people at the queue that I only needed to drop a paper. And everyone turned and said that they also needed to only drop a piece of paper. This was a standard procedure in Palo Alto. And everyone of those steps – except for the photocopy – was exactly the same as in the 1950s. I realised then than what we had done in Estonia was 50, or 60 years ahead of what was going on in Silicon Valley, where the private sector was revolutionised but in the public actor not much had changed."
Moreover, Ilves pointed out, the US was the scene of cyber attacks that saw companies such as Equifax fall victim to a data breach that affected 145.5 million US citizens and exposed to hackers the financial data of 75 percent of the country's adult population. The company's owners sold their shares and then told the public they had been hacked. Moreover, 23 million employees of the federal government, including CIA agents, which had been stored in an encrypted way, were stolen. This means that an unauthorised party has access to the records of past and present employees of the US federal government.
Estonia did not start its digital revolution from an even playing ground, Ilves argued. In 1938, he pointed out, Estonia's neighbouring country, Finland, had the same level of development. By contrast, in 1991, when Estonia became independent, the country's GDP per capita was 13 times smaller than that of Finand.
At the time, as an US-educated 14 year-old, who had been taught basic programming at a middle school, Ilves realised that, when browsing on the internet, everyone was equal. For a country obsessed with its small size, he explained, robotisation and technology are a way to compensate. That is why, during his term as president of Estonia he connected all schools to the internet. By 1999, the schools were open to the public after hours so internet access was widely available. People, as well as banks, for instance, got used o the idea of using computers and the latter didn't want to have brick and mortar buildings anymore.
The Estonian digital revolution
By early 2000, Estonia issued IDs with a chip on them. Not only that, the country previously changed the law in order for all citizens to be able to use one. According to Ilves, two-factor authentication is very crucial. The fact that the entire digital world lives in a system where you identify yourself with an e-mail and password, is outdated. It worked in the 1980's he argued, but not today when there are billions of people using the internet. "Every password can be hacked; it might take longer nowadays, but you still hack it." With the chip, one is able to sign documents. Today, "with the legal signature you can do everything you could do before only by traveling physically. We have now reduced in Estonia the number of situations you must be physically present to complete to 3. Firstly,  you must show up when you get married. Secondly, when you sell physical property. And third, when you want to divorce".
According to Ilves, in order to function, digital identity should be universal and mandatory. "If it is not mandatory, the government and the private sectors will not see the incentive of investing, instead they will ask themselves, why spend the money if a part of the population will not use it? If you want to offer services, it has to be mandatory so they can reach potentially everyone".
In order for digitalisation to work, it is also very important to have a strong backend architecture. "I need to know that everyone who has access to my records has the right to do so". For instance, in the case of medical records, "nobody should have access, not another doctor and not the police"
As far as data storage is concerned, Estonia turned the lack of public funds into an advantage."In the late 1980 everyone wanted to have large data centres, but we were too poor to have that. Everyone had their own servers. And the costs of having a huge database were also huge. Consequently, Estonia lacks a master database. Each ministry has its own, it is not duplicated.
X-Road
"Since 2001, the X-Road has been operating continuously and makes it possible to exchange not nationally but also over borders. The beneficiaries are the citizens, who live in a state that functions better. In a few minutes, the system saves 240 working hours in Estonia.
There is an amazing revolution in bureaucracy. Because this data is already somewhere, the government will not ask you any information it already has, such as your address or the number of kids. When bureaucracy was invented, it has been a serial process. Meaning you go to one place, then to another. With the system everything is done in parallel, at once." Compared to other countries, when you want to open a business, where it can take up to 7 months, in Estonia you can do that in 15 minutes.
Finland as well as Moldova has adopted X-Road. The technical part will take less to implement, because above all, this is a matter of political will."
The country relies on block chain technology in order to protect its citizens' digital records. "We've had the system in operation since 2001 and 16 years later it is the most modern one in the world. Once you go digital, you'll inevitably think you don't need paper. But someone may go and change something or do something bad. That is why we put all of that data, such as legal records on blockchain, meaning that nobody can go back and change it."
Security wise, "the system has survived Russian cyber attacks, so it can probably withstand anything".
Digital embassies and e-residency
"Other think we came up with is digital embassies. After Fukushima, the Japanese state lost a small percentage of their database. Using the Vienna convention, we created a digital embassy – a server that has all of our data but nobody can go into it. Romania doesn't have that problem but if I were Greece I would think of keeping my data elsewhere as well."
"We also have an e-resdiency program that gives those interested the right of establishment in the EU. This is of interest to Ukrainians, Indians and now Brits. Ot doesn't give you any political rights. Also, it is not suited for large entities. But if you have an SME and you operate out of Brighton but want to get the benefits of trading in the EU, using the digital residency system you can put up a company."