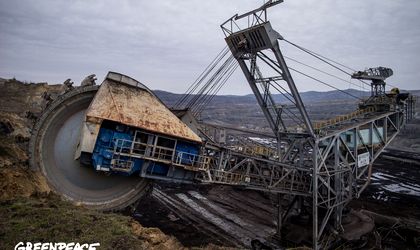 Greenpeace Romania and Bankwatch Romania have decided to sue the Romanian government alongside 18 land owners in Runcurel village, Groj county.
The legal action is due to "the project's incompatibility with the national energy strategy in force, unlawful State aid granted to a commercial company, the lack of a valid urbanism documentation for the project, violation of environmental approval to expand the quarry and taking a decision without a real public consultation process," said Greenpeace in a statement.
The 18 land owners who are involved in the lawsuit are to be expropriated from the area alongside some other 130 households following a government decision from December of last year. The decision is connected to a "public utility project of national interest" concerning the "Opening and entry into service of Jilt Nord quarry at a capacity of 4.5 million tons of lignite per year".
The project would benefit the Oltenia Energy Complex, which would "allow the company to take the locals' properties without negotiation," Grenpeace further states. This means that prices for the lands that the Oltenia Energy Complex would take over are to be established unilaterally by the company and they would be paid from the state budget, not from own funds, since the enterprise is state owned, the organization explains.
"The Oltenia Energy Complex is a private company for which the sole shareholder – through various other entities – is the Romanian state. In these circumstances, the company takes advantage of its shareholder position, thus acquiring, exclusively, the land they farm. No other entity could obtain such benefits, such as land expropriation on coal lands, supported with public money. The amounts paid under these conditions by the Romanian state are derisory, expropriated owners are faced with homelessness. This practice is rather a nationalization than a procedure of expropriation in a state of law. Under the law, the expropriation may be suspended, so the owners are practically left without means of defense against the bulldozers of Oltenia Energy Complex," says Catalina Radulescu, attorney at law.
According to Geenpeace, any attempts at addressing Prime Minister Dacian Ciolos on the matter have remained fruitless, as no answers have been provided to talk invitations or a petition signed by some of the villagers in Runcurel whereby they asked him to revoke the expropriation decision.
Natalia Martian