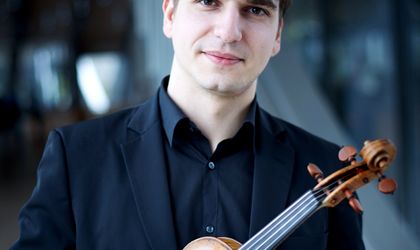 One of the Romanian musicians who have built a good career abroad, the Romanian violinist Vlad Stanculeasa, currently the concertmaster of the Symphony Orchestra of Gothenburg (Sweden) – is the special guest of the Radio Chamber Orchestra in a concert scheduled for Wednesday, January 20, from 19.00 at the Radio Hall. The young Romanian violinist enjoys the privilege of playing on a Sanctus Serafin violin from 1739, which the great Romanian artist George Enescu bought it from his savings as a student in Vienna. Enescu gifted Yehudi Menuhin with the instrument, and he kept it until his death in 1999.
Born in Craiova, violinist Vlad Stanculeasa attended the classes of the National University of Music in Bucharest, after which he perfected his skills at the Yehudi Menuhin International Academy in Switzerland (with Alberto Lysy and Liviu Prunaru) and at the Lausanne Conservatoire, where he studied with professor Pierre Amoyal. He received the third prize and the prize for best performance of "Amintiri din copilarie" at the George Enescu International Competition in 2007. From then on, he became a regular at George Enescu Festival, notes the festival's official website.
The event is even more special since Vlad Stanculeasa has prepared a Bach / Dvořák concert, where he will be both soloist and conductor.
Full program of the evening:
J.S.Bach: Brandenburg Concerto no. 3 in G major, BWV 1048
JS Bach: Concerto No. 2 in E major BWV 1042 for violin and orchestra
A.Dvorak: Romance in F minor for violin and orchestra, op.11
A.Dvorak: Czech Suite in D major op.39
The concert will be available for audition live on Radio Romania Cultural all frequencies and Radio Romania Music from home and live streaming on the Internet and www.romania-muzical.ro and www.radioromaniacultural.ro.
Tickets are available on www.eventim.ro in Germanos, Orange, Vodafone, Domo, Carrefour, Carturesti, Humanitas, in OMV filling stations and the Radio Hall ticket office.
Photo credit: Ettore Causa
Oana Vasiliu