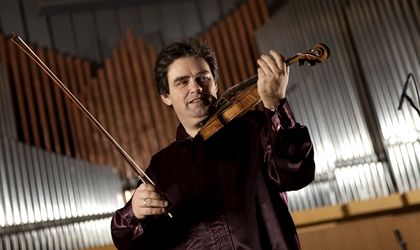 Romanian violinist Gabriel Croitoru, who received 2008 the Guarneri violin that belonged to George Enescu, which is included in the universal patrimony, will perform a Niccolo Paganini's concerto at the Radio Hall on Friday, January 31, from 7 pm. The violin that belonged to George Enescu is under the administration of George Enescu National Museum and was achieved by Croitoru after an international contest.
"This Paganini Concerto no 1, along with Tchaikovsky's, were the major concerts in my preparation as violinist while I was competing in international music contests. These were always successful concerts and I used to present them in turns depending on the competition program. Also, this Paganini concerto was staged by myself 30 years ago at the Radio Hall, when I was in the 12th grade, under the wand of Andreescu, bringing me joy" said Gabriel Croitoru.
The Friday event will be supervised by Italian conductor David Crescenzi, a permanent guest of the Romanian National Opera Timisoara.
The Cinderella overture by Gioachino Rossini, and Robert Schumann's Spring Symphony are also presented in the Friday's concerto.
Tickets are available on www.bilete.ro , at the Romanian Postal Company offices, in the Inmedio shops labeled "Bilete.ro," in the Germanos retail chain and at the Radio Hall box office.
Oana Vasiliu