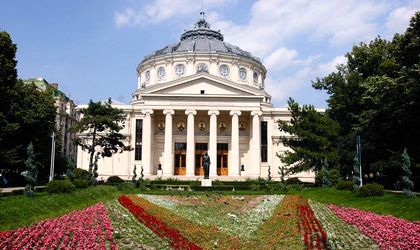 Starting September 16, those who haven't registered for a seat in The Romanian Athenaeum Hall can enjoy the Enescu Competition's Violin, Cello and Piano Semifinals and Finals, as well as an extraordinary Piano Recital, watching them live on a large screen outside the Athenaeum. The seating capacity is of 100 seats and  the admission is free of charge.
Starting September 16, on the screen outside the Athenaeum can be watched live performances of all the young artists selected by the jury to compete in Enescu Competition Semifinals. Their performances, formal recitals in fact, include in repertoire works by George Enescu as well. Additionally, the audience can enjoy live the presentations of all contenders for the Violin, Cello and Piano Finals, where they will perform in concerts together with the George Enescu Philharmonic Orchestra.
Whether they are in the concert hall or outside, the classical music lovers will have the chance to experience live another singular moment of the 2014 Enescu Competition – the announcement of the winners of this Edition. The winners will be announced at the end of the Final Concerts, after a short intermission. This moment is paramount for Enescu Competition, as it designates the future famous names in the international classical music out of the 240 competitors from 36 countries registered for this Edition. Aside from the total prizes worth of over 100,000 Euro, the laureates of the Violin and Piano Sections are invited to participate in one of the most important international events of the kind, the Ravello Festival – 2015 Edition.
On September 23, on the screen outside the Athenaeum can be watched live another symbolic event – the Extraordinary Recital given by two renowned musicians: acclaimed French pianist Jean Claude Pennetier (who presides over the Piano Section Jury) and Romanian-born pianist Mara Dobrescu, a graduate of the prestigious National Conservatory of Music in Paris.
Live Transmissions Calendar:
Semifinals
September 19, 16.00 to 22.00 – Cello Section Semifinal
September 24, 10.00  to 13.00   – Piano Section Semifinal (I), followed by lunch break
September 24, 17.00 to 20.00  – Piano Section Semifinal (II)
Extraordinary Piano Recital
September 23, at 19.00 – Extraordinary Piano Recital Jean Claude Pennetier and Mara Dobrescu
Final Galas with the George Enescu Philharmonic Orchestra participation
September 18, 19.00 to 22.30 – Violin Section Final; Conductor: Daisuke Soga
September 21, 19.00 to 22.30 – Cello Section Final; Conductor: Ovidiu Bălan
September 27, 19.00 to 22.30 – Piano Section Final; Conductor: Frantz Justus
The George Enescu International Competition's Violin, Cello and Piano Semifinals and Finals may be watched live also on http://festivalenescu.ro