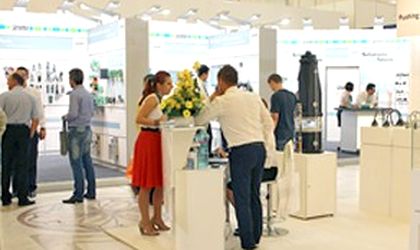 IEAS, taking place between 8 to 11 September at the Parliament Palace in Bucharest, brings forward Smart City, a dynamic concept focusing on continuous transformation trough technological urban and managerial innovation, a concept including those elements which quickly answer citizens' needs.
A smart city can be described as a place of smart buildings, smart mobility, smart infrastructure, smart technology, smart energy, smart citizens, management and smart education.
Over 95 companies from the industry will be present at the Parliament Palace, with a large share large number of companies from abroad. Coming from countries like Bulgaria, Czech Republic, Italy, Germany, Poland, Turkey and Hungary, this shows interest in the Romanian market, in opening local branches or finding distributors and partners.
The 11th edition of IEAS also hosts a higher number of local producers who promote local products and also imported products and services. Among the news for this year are the application for cities, traffic management, electrical automobile, smart lightning, wireless technologies for a higher mobility, automation systems for all the industry, smart meters, smart cables and others. The current industry focus is on energy efficiency and solutions and methods for combating pollution.
IEAS is an event that combines the exhibition area with a conference zone, demonstrations and workshops, but also show elements.
At the Parliament Palace is a special area dedicated to workshops in I.C. Bratianu Hall, here over 10 companies will have presentation with problems and solutions for industry, encompassing solutions for smart business, solutions for management and urban infrastructure, smart lighting, and technology medium voltage transformers and power solutions.
On the first day the conference Bucharest on route to Smart City will present a case study touching on smart projects already completed in other cities (Jerusalem, Bueno Aires, Hamburg and London). The conference will be held in Nicolae Balcescu Hall, Parliament Palace and will begin at 11.
IEAS 2015 will be held under the slogan "Smart Event in the Smart City" and will be dedicated to technology. The official opening takes place on September 8 at 10:00, access is free and the program is from 10:00 to 18:00 from Tuesday to Thursday except Friday, when visiting the event ends at 16:00. Pedestrian and car access at Parliament Palace is allowed from Calea 13 Septembrie, gate E1/B3.
Staff