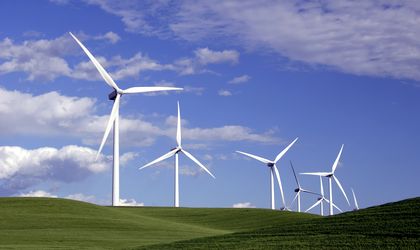 The renewable green arm of Italian utility Enel has connected the Moldova Noua wind farm in the Banat region of Romania to the grid, making the 48MW farm located south-west of the country fully operational.
The park comprises of 21 wind turbines and is capable of generating around 130 million kilowatt hours. Enel already had 25 MW of the Moldova Noua park online since December 2011.
Enel Green Power got last year EUR 112 million in funding fro the Danish government's Export Credit Agency (EKF) to cover part of the investments in the Moldova Noua and Corugea wind parks.
"We are moving forward with our strategy of strengthening our renewable energy output in Romania," stated Francesco Starace, Enel Green Power CEO. "The commencement of operations at Moldova Noua, entirely within the timeframe we had set, is an important step in this direction."
Enel currently has 292MW worth of wind operational and another 206MW under construction.
The Enel Group has been present in Romania since 2005 and has around 4,500 employees. The company operates a 90,000 km of power network that serves some 14 million customers.
Romania supports green producers
Enel is one of the foreign utilities that benefits from the green certificate (GC) support scheme that was put in place by the country to attract renewable energy investors. Each green MW is granted between one and six green certificates that can be traded on a special market set up by OPCOM. Right now, GCs are trading at the maximum price of EUR 55 and this is likely to continue through to 2014, according to industry players.
They argue that a dramatic fall in prices can't be registered until the country fulfills its mandatory renewable energy quota in electricity consumption. Last year, the quota was 10 percent, but only 2.5 percent of the gross consumption of electricity came from green sources.
"We estimate the price of green certificates will go down, but also the price of the equipment will go down. Within a few years the grid parity will be achieved so the market price of the energy will rise, the price of the equipment will decrease even more so we should be able to manage with a lower green certificate price. We calculated it at around EUR 30 to EUR 35 in five years from now," Oliver Zobernig, CEO of Austrian Global Energy Partners (GEP) told BR.
His company is developing 275MW of wind capacities in the Dobrogea area. The construction works are expected to begin next spring. The developer opted to build smaller parks in order to ease the permitting and grid connection processes and should have all the capacities operational in five years.
The support scheme led to an increase of electricity prices by EUR 2.1 for 1 MW and ran a total cost of EUR 98.43 million last year. In the same time, the total production of electricity from renewable sources totaled over 16,000 TWh, out of which around 1,500 TWh were sustained through the GC program. Around 1.7 million green certificates were issued last year and over 75 percent went to wind power producers.
"I am absolutely convinced that the Romanian potential is larger than what is operational right now. I think that three times of what is installed now can be easily connected, if there is further investment in the grid infrastructure. Personally I think 10,000MW in the next 10 years maybe," said Zobernig.
Romania had 1,759MW of green capacities eligible to receive certificates in July, out of which 1,300 MW was in wind, according to Transelectrica, the grid operator.
Enel had a 6 percent share among the producers that benefited from GC last year, while Czech utility CEZ held a commanding 41 percent. Austrian Holzindustrie Schweighofer, which specializes in biomass, had 6 percent, while Portuguese EDP Renewables had 16 percent. Other producers have a combined 31 percent of the market.
Financing wind projects remains a challenge as the capital expenditure for 1MW amounts to EUR 1.5 million, but banks can lend an ear if some producers are able to seal purchasing agreements for the power and the green certificates.
"There are people around that start negotiating long-term PPAs (Purchasing Power Agreements)  speaking of 5 years to 7 years, as this is the period negociated currently in the Romanian market on a private basis. But the price is lower than you would get if you sell the GC today," said Zobernig.
GEP is also looking to develop small hydro projects of 2 to 5 MW in Satu-Mare, northern Romania and small photo-voltaic ones.
Ovidiu Posirca