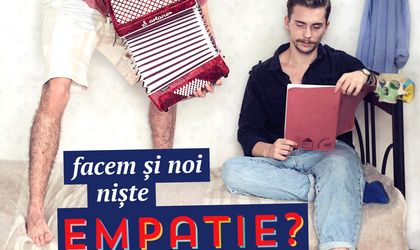 For the eleventh edition of Ideo Ideis Theatre Festival that is taking place in Alexandria, Teleorman, between August 8-14, the main theme is empathy. This festival brings to life a small town, being supported with enthusiasm and implication of some of the greatest Romanian actors and others people active in the cultural sectors. Also, the event addresses to high school teenagers, who spent in Alexandria ten days there to discover the art of the theatre performance.
19 theatre performances are scheduled – 10 of them are professional performances, while 9 are shows designed by the young artists, over 27 street theatre performances and 3 concerts, Urma, ArgEnTango and Fanfara Transilvania, as well as film screenings, due to the fact that TIFF caravan will be in town during the festival.
For this edition, the organizers have prepared The Night of the Storytellers, where activist Roxana Marin, writer Forin Lazarescu and painter Adrian Ghenie will be the hosts. Also, the individual master-classes will be held by Mimi Branescu, Dragos Bucur, Teodor Corban and Geanina Carbunariu.
For this 11th edition, 8 theatre companies out of 23 applications have been selected: ART3 – Brașov, Playhood – Bucharest, Seism – Focșani, DramaClub – Botoșani, The Snoop – Baia Mare, Atelierul de Teatru – Botoșani, 3,14 – Buzău and Brainstorming – Bucharest. Each theatre company will have its own mentor, Pavel Bartos, Dorina Chiriac, Serban Pavlu, Ofelia Popii, Medeea Marinescu, Marius Manole, Cătălin Ștefănescu, Andi Vasluianu and Vlad Zamfirescu being those who have accepted the challenge.
Every day, a shuttle bus from Bucharest can be taken at 12.00 to Alexandria. The meeting point is Mitropoliei Hill, near Unirii Square. Moreover, the theatre tickets cost RON 10 for each performance.
Oana Vasiliu