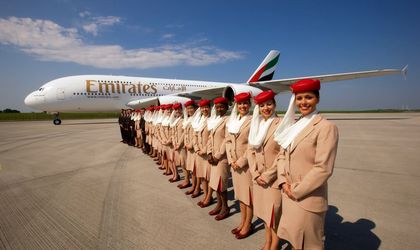 Emirates Airline, headquartered in Dubai, has spent the last couple of months prospecting the Romanian market and is planning to start operating flights between Bucharest and Dubai by the end of the year, according to Mediafax.
Emirates representatives have met with several tourism agencies and Otopeni officials to establish the parameters of their Bucharest – Dubai line.
On 25th October 1985, Emirates flew its first routes out of Dubai with just two aircraft—a leased Boeing 737 and an Airbus 300 B4. Since then,, Emirates has evolved into a globally influential travel and tourism conglomerate owned by the Government of Dubai.
With a fleet of more than 220 aircraft, it currently flies to over 140 destinations in more than 80 countries around the world. Over 1,500 Emirates flights depart Dubai each week on their way to destinations on six continents. In recent years, Emirates has made numerous significant announcements regarding the future of its already state-of-the-art fleet.
A low-cost option for Bucharest-Dubai flights remains Wizz Air, who last autumn launched a route connecting Otopeni to Dubai World Center airport.