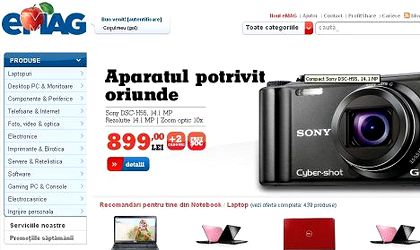 South-African group Naspers has decided to extend eMAG.ro's sales platform into Poland. Dante International will be taking over Agito, one of Poland's biggest online stores.
Dante International owns eMAG.ro and is controlled by Naspers (75 percent) and Iulian Stanciu (25 percent).
"We have sent a notification at the end of December 2014 to The Office of Competition and Consumer Protection in Poland and after their answer we will implement the changes. The Romanian and Polish experience will be integrated",  according to Iulian Stanciu, general director for Dante International.
Stanciu refrained from giving any details regarding the value of the transaction.
"This expansion is part of our long term strategy to consolidate our position in the region. Presently, because of the three markets where we are already active in – Romania, Bulgaria and Hungary – we can access a base of 36 million clients. Now we are entering a huge country in the region, with 39 million inhabitants, an online retail market of EUR 4 billion and a huge potential for growth", according to Sorin Ionescu, international development director Dante International.
Agito SA is the biggest on line retail store in Poland. Founded in 2002 as a store for consumer electronics, it expanded into different categories such as home appliances, tools, toys and many more.