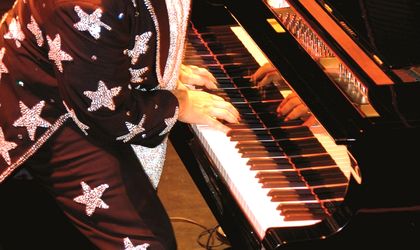 Fans from Romania of the great legendary musician Elton John can see him in concert on a live transmission that will take place at Grand Cinema, on March 27, from 20.30.
'THE MILLION DOLLAR PIANO', is currently being performed to standing ovations during Elton's residency at Caesar's Palace and includes all of Elton's greatest hits from throughout his career including 'Rocket Man', 'Tiny Dancer', 'Saturday Night's Alright for Fighting', 'I'm Still Standing', 'Goodbye Yellow Brick Road', 'Crocodile Rock' and 'Your Song'.
At the centrepiece of the performance is the show's namesake piano, featuring more than 68 LED video screens created by Yamaha. The state-of-the-art piano is the perfect accompaniment to Elton's greatest hits displaying imagery to complement the entertainer's fan favourites.
Elton said, "I've had the best time (in Las Vegas) because I always thought of it as a challenge and wanted to put on the best show. I don't think there could be a better-looking show than this in Vegas or in any venue anywhere", notes the official page of the event.
The ticket price is RON 60 or RON 120 for a VIP entrance. More details here.
Oana Vasiliu