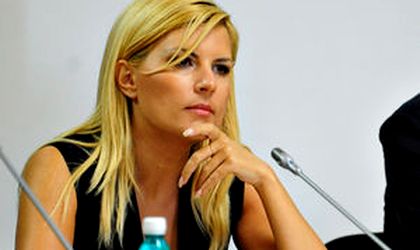 The chair of People's Movement Party (PMP) Elena Udrea is the party's candidate in the November presidential elections, following a decision of the PMP National College on Tuesday.
"PMP has designated me through a vote in the National College as candidate in the presidential election. It's a big responsibility, one which I assume alongside the whole PMP team. I think I'm the fittest candidate," Udrea declared after the College meeting.
She mentioned that there was only one vote against the decision, from Cristian Preda, Member of the European Parliament. Udrea also announced she will ask Traian Basescu for his support in her campaign.
"'He is the one whose voters we want to convince to join us; we are those who assert we wish to carry on the reforms started by Traian Basescu. Obviously, we are going to talk with the president, and I am going to ask him to support me in this difficult competition," she pointed out.
Her main opponents will be Victor Ponta, the socialist candidate and Klaus Iohannis, run on behalf of the liberals.