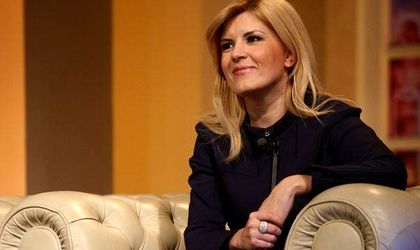 The National Anticorruption Directorate (DNA) prosecutors decided to extend the criminal investigation on former minister Elena Udrea and Tudor Breazu, the administrator of the plots of land in the village of Nana (Calarasi County), for committing the offense of money laundering in the Bute Gala case.
According to a DNA release issued on Wednesday and quoted by Agerpres, during 2010-2011, Elena Udrea and Ana-Maria Topoliceanu, the director of the National Investments Company (suspect in the case), received an amount of approximately RON 300.000 (EUR 68.104) from the SC Consmin SA administrator in order to ensure the payment in due time of the works conducted by this company based on the contracts signed with the National Investments Company.
Thus, the prosecutors show, after the National Investments Company made the payments to SC Consmin SA for the works, the company's administrator ordered the transfer of 10 percent of the collected amount to SC Last Time Studio SRL, controlled by Stefan Lungu, former adviser of Elena Udrea, based on some fictitious consultancy contracts. By doing so, five payments worth RON 335.486 (EUR 76.160) were made. In his turn, Stefan Lungu was passing the money received to Tudor Breazu.
At the same time, the DNA release points out, in 2011, Elena Udrea asked and received from Adrian Gardean, for herself and for a third party, material benefits worth 10 percent of the payments made by the Regional Development and Tourism Ministry for the works' contracts signed by SC Termogaz Company SA and SC Kranz Eurocenter SRL, in exchange for the guarantee that the funding will be approved in due time.
Hence, in the period July 19, 2011 — July 18, 2012, in the organization's accounting files there was registered a number of 21 donation contracts with a total value of RON 1.537.200 (EUR 348.967).
In the Gala Bute case, Elena Udrea was placed under preventive arrest.
Staff