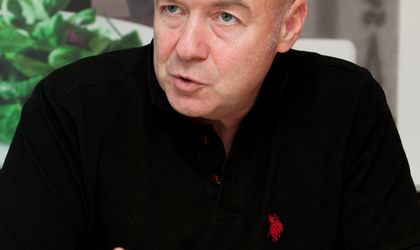 The Romanian subsidiary of Swiss Eisberg Group managed to sell fresh salads worth EUR 3.5 million last year, a level which it says has remained constant ever since the crisis hit. Lucian Trofin, the company's general manager, talked to BR about what he calls the huge growth potential for such products on the local market over the coming years and the challenge of sourcing from Romanian farmers.
By Simona Bazavan
What is the highest sales level you have reported since starting business in Romania and what is the target for 2013?
We have been in Romania since 1995 when we came here alongside McDonald's, for which we are sole supplier for Romania and the Republic of Moldova. In 1998 we opened a production plant near Bucharest which was extended to its present capacity in 2010 following an investment of over EUR 4 million.
Last year we reported a turnover of EUR 3.5 million, a level which has remained constant ever since 2008, our peak year. Sold volumes, however, have been growing constantly while prices have remained at the same level since 2009.
Our consumer base is very loyal once they understand the products we sell, their added value and their benefits. For example, while back in 2005 when I joined the company, we sold through retail chains about a ton of products per week, we have now reached 7-8 tons. In 2012 retail sales represented more than half of last year's sold volumes while the rest went to horeca. This year retail sales should go up to about 60 percent, judging from the fact that the number of our consumers is on an upward trend.
Overall, the target is to increase turnover by about 7 percent, the same as last year, while sold volumes should go up by about 13-14 percent, judging by the good results reported so far.
Can you estimate the value of the Romanian fresh convenience food market and how it could evolve over the coming years?
We couldn't offer an exact figure. What I can say is that we cover some 20-22 percent of the convenience fresh food market. But what is very important is that the market is constantly growing. Even though the Romanian subsidiary's contribution to the group's total sales is very small at present, Romania is seen as a country with huge growth potential.
On what do you base this projection?
We are constantly looking at consumption figures related to the active population. We also look, for example, at the situation in Hungary. The country has a smaller population than Romania with similar food habits. I would say that Romanians are even more receptive than their neighbors when it comes to fresh food. But while in Romania we sell some 7-8 tons per week through retail chains, in Hungary we sell ten times this volume. Were it not for the crisis, we believe that Romania would have been on course to reach the same level as Hungary in 2015.
Moreover, in Romania, about 70 percent of our retail sales are generated by the Bucharest market alone. Ever since 2004, our sales in Bucharest have been growing at an annual average rate of 20-30 percent and we are reaching very good coverage in the city. So, the untapped potential is outside Bucharest where we believe we can sell double if not more than what we sell in the capital. This doesn't depend so much on the purchasing power of consumers outside Bucharest, but rather on logistical aspects.
How much of the raw materials that you require comes from Romanian farmers?
Not as much as we would like. I don't want to sound harsh, but in my opinion Romanian agriculture is a distressed sector. Everyone talks about how important it is but one needs resources, not just statements. Given the lack of funds, most of the farmers are underfinanced and make do anyway they can. There is also a problem related to mentality, as many of them refuse outside knowhow. We have tried to give them advice and suggest they use better adapted seeds and seedlings. For various reasons, including unpleasant experiences some farmers have had in the past, there is a certain lack of confidence.
Nevertheless, in order for them to become our suppliers the conditions and quality standards we impose are very clear and thorough. We have had good relations with several Romanian farmers for many years but not with as many as we would like.
There is also the issue of seasonality and climate. We offer the same products at the same quality regardless of whether it's January or June, but we can buy salad ingredients from local farmers only for two or three months per year, and for about six months for some of the vegetables we need.
Moreover, some leaves such as arugula, lavender and baby spinach, which are among the most popular locally, aren't cultivated in Romania. All in all, between 15 and 20 percent of the produce we use is locally grown, and the rest imported.
What is your consumer profile?
We initially started from the idea that women are the more important factor in the purchasing decision. However, as people have understood that as a convenience fresh food producer we sell more than vegetables and salads, but also free time, we have seen increasingly more male consumers. On average, our customers are aged above thirty and are mainly women.
The Eisberg Group operates five plants and is active on eight markets, so we can say that Romanian consumers are very open to new products as long their benefits are clearly communicated. The products we sell are well received by Romanian consumers. Many of those who don't buy our products are simply not familiar with the concept.
simona.bazavan@business-review.ro