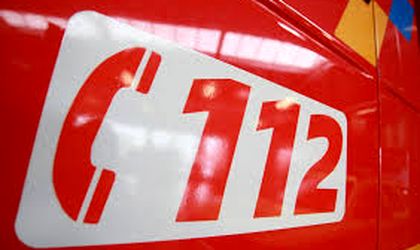 Raluca Cojocaru is a Romanian 112 operator that sent an open letter to the European Emergency Number Association to ask for its help and support. As a result of a media campaign against phone operators, the number of fake calls to emergency help lines has tripled, the woman warns.
"I have been working for ten years with the Single National Emergency Call System in Romania", Cojocaru opens her letter.
"This means, dear citizens and distinguished journalists and politicians, that the nature of my work is to help save your life and property if you are in immediate danger. And it means that, regardless of my personal worries and problems I have to be on high alert while I am at work. I have to cope with despair, pain, tragedy on a daily basis, among the hundreds of false calls received daily from those who are joking or are in the mood of arguing or simply getting bored. In fact, during the 10 years of existence of 112, my colleagues and I have managed over two hundred million calls. (…) However, neither I nor my colleagues have had any failure in our work. No single person, to my knowledge, has lost their life because a 112 operator who did not immediately link them, in several seconds, to our colleagues from the ambulance, police, gendarmerie, SMURD or fire. ", Raluca Cojocaru continues.
The accident that claimed the lives of 3 people in the Apuseni Mountains cast a negative light on the profession of emergency operator, the woman argues, trying to make the case for those in her line of work.
"During the last three weeks since, because of several unfortunate circumstances, a plane crashed and resulted in the tragic loss of two lives, I have been living the most difficult and bitter period of my professional life. When I know I do my job every day with professionalism, honesty and seriousness, I cannot stay impassive when facing the dirty campaign of insults and lies, driven by several politicians and media against me and my colleagues", the woman explains.
Furthermore, she argues, attacking the 112 operators can be very dangerous to society on a whole, since it encourages people to make prank calls and interfere with actual emergency.
"Every minute wasted in a fake call, equals one minute stole from a man in a real emergency. In these three weeks of scandal, the number of false and abusive calls has not only tripled, but was tenfold and the desperate people calling are responding with increasing reluctance to my triage questions. With sadness and rebellion, tell me: how can I possibly understand the  unconsciousness of journalists and politicians on the one hand, claiming concern for Romanians, and on the other hand they are putting their lives in danger through this behaviour?"
Raluca Cojocaru launches one final appeal toward the end of her letter: "Stop this horrific campaign against us the 112 call-takers"
Read the full letter here.
The EENA responded to the operator's letter, the association's representatives claiming their were moved beyond words by the woman's candor and passion.
"Being a 112 operator is one of the most difficult and sometimes stressful jobs and without fear or favour, the 112 operator will always respond with professionalism, empathy, dedication and above all, they will always respond. The 112 operators deserve the most possible respect for doing what they do. (…) Blaming 112 operators for failures elsewhere is the easy way out for some people. As often, the truth is found somewhere else if we look carefully", the response reads.
Furthermore, the EENA believes that the media campaign against 112 operators, following the accident on January 20, is completely unfair:
"The Romanian citizens should be aware that the Romanian 112 system is at least as good as most EU countries and is by many considered as a benchmark in Europe. EENA does not believe that the campaign against the Romanian 112 system is balanced or fair and the Romanian people should be aware that replacing more Ministers and Directors will not change their situation".
The European institution believes that the operators themselves are not to blame, and a change in the legislation, at a European level, needs to happen in order to porevent other such tragedies.
"The laws governing 112 have to be changed, and the first step towards improving matters comes from Brussels. The Romanian Government had already sent a letter in 2013 to Vice-President Neelie Kroes urging her to take measures on caller location for 112 emergency calls. We ask the Romanian President, the Romanian Prime Minister and every authority involved with 112 services to demand publicly that the European Commission regulates mobile network operators to provide accurate and reliable caller location. Once again, the Romanian 112 system is not to be blamed. It is the legislation and method in which 112 is governed that has to change".
Read the full EENA response here.