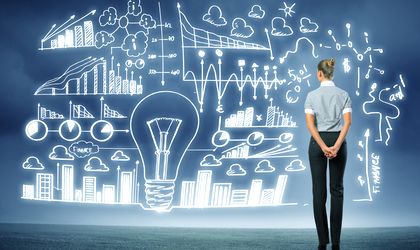 Romania has an overall score of 0.32 and ranks 28th out of the 28 EU member states, according to the Digital Economy and Society Index 2015 (DESI), a ranking done by the European Commission within the Eurpean Digital Agenda.
Relative to last year, when it had a score of 0.28, Romania made some progress, the study shows, though it still falls into the cluster of low-performance countries, where it performs below average. This is mainly due to the fact that, although more people subscribe to fast broadband networks (60 percent of fixed subscriptions are to a fast connection today, in comparison to 55 percent in 2013 – Romania ranks second in the EU), low levels of digital skills and trust seem to be holding back the development of its digital economy.
Connectivity is the DESI 2015 dimension where Romania performs best. With an overall Connectivity score of 0.47, the country ranks 23rd among EU countries. Our country dropped three places from the previous year, being pushed back by Slovenia, Slovakia and Bulgaria.
Some 11 percent of Romanian households are still not covered by fixed broadband, and close to half of households (46 percent) do not subscribe to fixed broadband. According to the index, the main reason for the low coverage might be the subscription price, showing that an individual seeking to subscribe to a broadband connection must spend 3 percent of their gross income for it, which is more than double the EU average of 1.4 percent.
However, our country benefits for high-speed Internet access, with networks capable of providing at least 30 Mbps being available to more than two-thirds (69 percent) of Romanian households, slightly more than the EU average (68 percent).
When it comes to digital skills (the Human Capital aspect of the ranking), only 20 percent of Romanians possess basic levels of such knowledge, while Romania has the lowest percentage of regular Internet users in the EU (48 percent). Still worse, 39 percent of the Romanian population has never used the Internet (the EU average is 18 percent). With a Human Capital score of 0.27 Romania ranks last among EU countries.
The only indicator where Romania performs better than the EU average is in STEM (Science, technology and mathematics) graduates, with 1.9 percent of Romanians aged 20-29 years old holding a STEM degree. While positive, this is not enough to compensate for Romania's digital skills deficit.
In terms of Internet usage, our country ranks last (scoring 0.31, up from 0.24 last year), lagging behind both in online banking and online shopping. While Romanian Internet users are keen on using the online for reading news, listening to music, obtaining video content and socializing, with their engagement levels higher than the EU average, they are very reluctant to engage in any type of online transaction. The shares of Romanian Internet users that use online banking (7.7 percent) or shop online (17 percent) are the lowest of all EU countries.
In Integration of Digital Technology by businesses, Romania scores 0.19, its lowest indicator among the five DESI 2015 dimensions. However, our country has moved forward one place from last year, placing 27th in 2015 (in 2014, Romania scored 0.17 and place 28th).
The percentage of businesses using technologies such as electronic information sharing (ERP – 21 percent), eInvoices (7.2 percent), Cloud services (2.8 percent) or social media (5.9 percent) in Romania is among the lowest in the EU. At the same time, very few SMEs in Romania sell online (7.3 percent), even less sell online to other EU member states (3.4 percent), and those who do sell online make a very small share of their turnover from those sales (4.3 percent).
For Digital Public Services Romania scores 0.31 and ranks 24th among EU countries. This represents an improvement from the previous year (when it held the 25th place, with 0.27 points). However, use of eGovernment is still the lowest in the EU (5.8 percent of Internet users), partly due to the low level of development of online public services.
Romania's performance in eHealth can be improved, namely by encouraging a greater adoption of medical data exchange (only 16 percent of Romanian general practitioners exchange medical data electronically, versus 36 percent in the EU). Romania presents a laudable performance, however, in ePrescription, where the fact that 60 percent of its general practitioners transfer prescriptions to pharmacists electronically makes it rank 7th among EU countries.
The DESI aggregates a set of indicators structured around 5 dimensions: Connectivity, Human Capital, Use of Internet, Integration of Digital Technology and Digital Public Services. The index for 2015 is constructed from indicators referring mostly to the calendar year 2014 and scores range from 0 to 1, the higher the score the better the country performance.
Natalia Martian