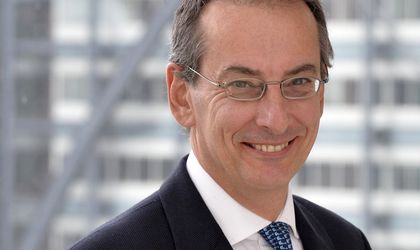 After investing EUR 1.5 billion in Romania over the past four years, the European Bank for Reconstruction and Development (EBRD) says it will try to at least maintain a similar level through to 2018. Strategic priorities on the local market include broadening access to financing by inducing lending and developing capital markets, reducing regional disparities and enhancing competitiveness in the private sector.
Simona Bazavan
"It would be fair to say that we will strive to maintain or to slightly increase the amount of investments we have conducted in the past investment strategy period. But how much will be dedicated to South Eastern Europe and how much will then be invested in Romania (between 2015 and 2018) will actually depend overall on the strategic plan that the bank is still elaborating. As you know, we are a demand-driven bank and it depends also on how much the country needs and on the number of opportunities that are actually there," commented Matteo Patrone, EBRD director for Romania, after announcing the bank's investment strategy for Romania over the 2015-2018 period.
EBRD has invested some EUR 1.5 billion in 75 projects in Romania over the previous country strategy period in four sectors – finance, energy, infrastructure and the corporate sector. It is the largest institutional investor in the country and it is perhaps best known for its participation in Banca Transilvania and state-controlled energy company, Electrica. Over the past four years, the institution's strategy for the local market has been to focus on developing the finance sector with a specific focus on local capital markets, infrastructure development, sustainable energy investments, supporting the shift to more of a production and export-oriented economy in the private sector as well as policy reform initiatives. Many of these will continue over the next four years, according to the bank's director.
"We still see a number of transition gaps, as we call them, in Romania and therefore, the main priorities for the new country strategy, which will run from this year for the next four, are focused on enhancing and broadening access to financing by inducing lending and by developing capital markets," he explained. There are clear difficulties, in particular for SMEs, in accessing financing, stressed Patrone. "The access to non-collateralized financing and non-banking financing is actually very limited and there is also a limited appetite for equity," he went on. The bank plans to implement this by stimulating sustainable commercial lending to SMEs, especially in underserved areas. Capital market developments are another "pillar" in the bank's strategy in Romania. "However, if IPOs (initial public offerings) don't happen, there is not much we can do. It depends on the appetite of the private sector to access the markets and also very much on the privatization process and how many of those will be done through IPOs and how many through a strategic investment," he argued.
EBRD, which in the past has participated in the IPOs of companies such as Romgaz and Electrica, and has also subscribed to several corporate bond issues, says it is ready to invest anywhere between EUR 1 million and EUR 100 billion in new IPOs, but it doesn't exclude secondary listings either if those "make sense" and are backed by expansion programs. "It is not really a question of company size but a question of quality and the equity story behind it," explained Patrone.
The second priority for EBRD in Romania over the next four years is the reduction of regional disparities and increase of economic inclusion through commercialized infrastructure. "One of the main transition gaps we see in the country is regional disparity and one of the potentials we see for our intervention is to bolster economic inclusion. The country suffers from endemic underinvestment in infrastructure. Therefore, we will look at both attracting private investment and investing on a sovereign basis in infrastructure that will bolster economic inclusion," said the bank's director.
The bank will not have specific allocations of funds on regions but will instead look at investments in physical infrastructure and putting in place instruments that would enable companies from regions that are lagging behind to have access to financing more easily.
Enhancing private sector competitiveness through targeted investments, is the bank's third priority. "Investment will be conducted both through direct investment, financing and equity, and through indirect investment through our partner banks," added Patrone. In addition to this, EBRD will also focus on offering consulting to private companies in order to improve operational management and in the public sector it will "leverage investments with policy reform activities".
The bank predicts that Romania's economy will grow at around three per cent in 2015 and 3.2 per cent in 2016, placing it among the fastest-growing emerging economies in South Eastern Europe.
EBRD is a leading institutional investor in Romania, with almost EUR 1.5 billion invested in 75 projects over the previous country strategy period. According to Patrone, the non-performing loan (NPL) ratio in the country is "incredibly low, especially in the private sector, and it is much lower than that of the commercial sector or EBRD's average". In total, the bank has invested over EUR 7 billion in the country to date and has also mobilized more than EUR 14 billion from other sources of financing in all sectors of the country's economy, according to its data.
EBRD Romania at a glance
Number of operations to date: 374
Net cumulative bank investment: EUR 7 billion
Cumulative disbursements: EUR 6.3 billion
Portfolio: EUR 2 billion
Portfolio structure: Energy (33%), industry, commerce and agriculture – ICA (29%), infrastructure (24%), financial institutions (14%)
Number of active portfolio operations: 174
Operating assets: EUR 1.6 billion
Private share of portfolio: 63%
Equity share of portfolio: 22%
Number of operations YTD: 10
Bank investment YTD: EUR 129.9 million
Disbursements YTD: EUR 179.8 million
Source: EBRD data as of August 31, 2015