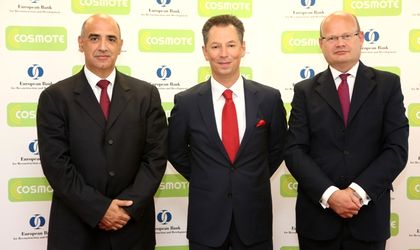 Telecom operator Cosmote, the third-largest mobile operator in Romania and a subsidiary of the Hellenic Telecommunications Organization (OTE), will receive EUR 225 million financing, arranged by The European Bank for Reconstruction and Development (EBRD).
From the total loan, EUR 75 million is from the EBRD's own account and EUR 150 million syndicated to a diverse group of seven commercial banks.
This is the largest syndicated loan in the country this year, announced the telecom operator.
Says Nikolai Beckers, CEO of Cosmote Romania: "Telecoms are an extremely capital intensive business, with rapid technological changes. Cosmote Romania, as a total communications provider, launched 4G services in April this year. (…). Through this loan from the EBRD, we are enhancing our resources, so we can pursue the optimal investment plan for our broadband development strategy"
The loan will enable Cosmote Romania to finance the renewal of its telecom licences and fulfill the payment for the spectrum allowing fourth generation (4G) mobile services, as well as to satisfy a part of its capital expenditure requirements for its network, announced the company in a press release.
"Romanian demand for mobile broadband services is growing and greater competition in the provision of 4G services is expected. Companies are facing significant costs linked to investment in networks and services. The financing arranged by the EBRD will enable Cosmote Romania to improve its competitive advantage. The company will deliver faster broadband communications with a better quality of service and will provide new and innovative applications and services," according to the company officials.
According to Michael Tsamaz, OTE Group Chairman and CEO, "this agreement is a vote of confidence for the country, its prospects and possibilities."
Mandated Lead Arrangers on this syndicated loan are ING Bank and Société Générale, Lead Arrangers are Erste Group Bank AG and Eurobank Private Bank Luxembourg S.A., Citibank , NBG Bank Malta Limited and Raiffeisen Bank International AG come in as Arrangers.
"We are excited that this transaction is a maiden project with OTE group and also involves a large group of trusted banks,"also  said James Hyslop, EBRD's director for Romania.
Since the beginning of its operations, the EBRD has invested approximately EUR 6.2 billion in over 330 projects in Romania, mobilising more than EUR 12 billion for these projects from other sources of financing, according to the press release.
Photo: Charalambos Mazarakis, OTE Group CFO (picture left), Nikolai Beckers, CEO Romtelecom and Cosmote Romania (center), James Hyslop, director of EBRD Romania (picture right)
 Otilia Haraga