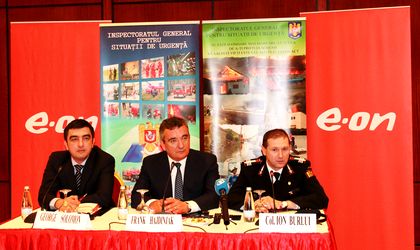 E.ON Romania, the utility, said on Wednesday it renewed a partnership with the IGSU (General Inspectorate for Emergency Situations) in an effort to raise awareness on the risks of misusing gas and electricity equipments, announcing the donation of specialized equipments to the first responders.
Under the partnership, which entered its second year, the utility will donate 100 natural gas detectors worth EUR 70,000 to fire units, planning to raise their number in the future.
The company and the IGSU jointly ran two campaigns addressing the children and adults, in the face of a growing number of people that lose their lives due to fires, carbon monoxide poisoning or explosions.
Frank Hajdinjak, CEO of E.ON Romania, said the campaigns lead to a reduction of incidents and victims. He added that the modernization of the gas and electricity role sustains the fall in such events.
Next year, the company has an investment program between EUR 90 to EUR 95 million for gas and electricity modernizations.
The company has invested EUR 1 billion since entering the local energy market in 2005 in revamping the grids.
Ovidiu Posirca