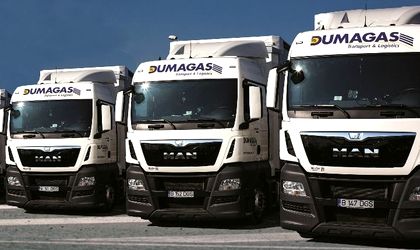 Romanian transport solutions provider Dumagas announced plans to invest EUR 3 to 4 million this year into modernizing the fleet in the area of international transport to tilt, national temperature-controlled distribution and building a more efficient IT and communication infrastructure.
The refrigeration segment is a key objective for the company for 2016-2017, Dumagas says in a press release, aiming to place the company among top players in terms of distribution of perishable goods in Romania.
With a turnover of EUR 42 million, the company recorded a slight profit over the losses of EUR 4.5 million posted during the previous year, making this "the best financial performance of the last 10 years," the statement shows.
Dumagas also announced the sale of its transport division with tanks for food products to the company Klacska Romania, for an undisclosed amount. The transaction includes the transfer of fleet, personnel and clients.
Dumagas Transport is active on the local market for 20 years,employs some 550 people and has a fleet of 325 Renault and MAN trucks. its portfolio includes some 1,000 clients operating in various sectors of the economy, uch as FMCG, paper, furniture, constructions and so on. The company's most important markets for transport are Germany, Turkey, Italy, Benelux and Eastern Europe. In 2014, the company opened an office in Turkey, at Istanbul.
Klacska Romania and its parent company Klacska GMBH are part of the E-b-trans group, a company providing transport of bulk liquids. With a fleet of 4,500 units, E-b-trans group has subsidiaries in 14 countries and posted revenues of EUR 400 million in 2015.
Natalia Martian