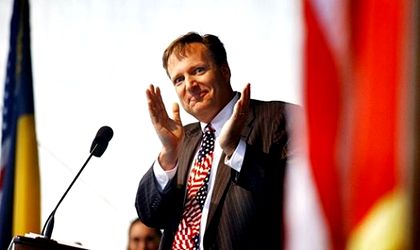 Duane Butcher, Charge d'affaires for the US Embassy in Romania, spoke on Thursday at the Independence Day reception organised by the American diplomatic mission. Butcher praised the country's striking beauty and highlighted the US's commitment to seeing the country go.
"Above all, the United States wants Romania to succeed. We want Romania to thrive, for its economy to flourish, and for trade and investment to grow. Transparency, stability, and predictability are the key to realizing Romania's economic potential and increasing wealth and prosperity. The United States and Romania are already close economic partners. We have invested billions of dollars in Romania since 1990, leading to the creation of thousands of jobs. With the adoption of a Transatlantic Trade and Investment agreement between the United States and the European Union, trade between our countries will be even easier", Duane Butcher said in his remarks.
The official confessed that the upcoming end to his term and the thought that he will have to leave Romania saddens him.
"I have been fortunate to serve two rewarding tours in Romania getting to know this beautiful country and its people. I am encouraged by what I have seen and learned. While challenges remain to be overcome, Romania should be proud of what it has accomplished in the 25 years since the Revolution. I am sad to leave in a matter of days", Butcher added.
Duane Butcher will be replaced with Dean Thompson, "an experienced and highly decorated senior diplomat" according to the former. Dean Thompson has been the general consul of the U.S. in Calcutta, India, since August 2011.
"Romania has incredible physical beauty of course. But again, what makes a country truly beautiful is its people and its values. I have been privileged to work with many extraordinary Romanians, among them dedicated soldiers and talented public servants, fearless police, prosecutors and judges, courageous journalists, and untiring social activists fighting for justice, seeking the truth, and promoting positive change. Together with Romania's exceptionally talented youth, they are building a vibrant society and a prosperous democracy. To conclude, Romania's future is full of promise. Its democratic path, its transatlantic partnership with the United States, and its place in Europe are the perfect platform for the patriotism, hard work, and determination of its people. Your strength, stability and prosperity will continue to be a model for countries in this region", Duane Butcher said in his closing remarks.
Butcher announced in an interview with Hotnews.ro last month that Thompson would take over the run of the US Embassy in July. The US has yet to appoint an official ambassador to Romania, two years after Mark Gittenstein finished his term in 2012.