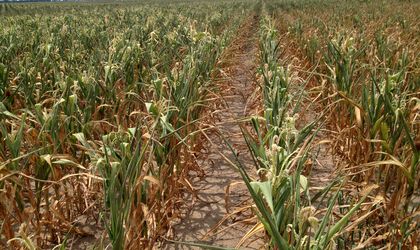 Wheat prices have surged by about 30 percent this August y-o-y, while other crops have also posted gains, threatening to eat into Romanian food processors' profits. And the effects of the drought are not just being felt by farmers: food prices went up this July by 0.1 percent and consumers could be looking ahead at further increases given the price evolution of basic commodities and the exchange rate.
By Simona Bazavan
Recent weeks have seen alarming reports of crop losses after drought ravaged some 40 percent of Romania's farmland, according to the Ministry of Agriculture. While official data on this year's harvest is not yet out, farmers have been complaining of double-digit losses for most crops. This year's corn production could drop by about 20 percent from the 11.6 million ton record level reported in 2011 while the wheat output will be at least 15 percent below the 7.1 million tons harvested a year ago. The drought has also burned up some 45 percent of this year's sunflower crops, farmers say.
Other countries, too, have been affected by this summer's crushing heatwave, although Romania's general lack of proper irrigation has made things worse. Local and international prices for the major cereals, wheat and corn, have surged as a result.  The Food and Agriculture Organization of the United Nations (FAO) announced that its index for cereals was up 17 percent this July against the previous month.
Severe drought in the USA pushed up corn prices by almost 23 percent in July while international wheat quotations also surged 19 percent amid worse production prospects in the Russian Federation and expectations that demand for wheat, such as feed, will go up because of scarce corn supplies, according to the organization. Overall, the FAO food index, which measures the monthly change in the international prices of a basket of food commodities, climbed 6 percent in July after three months of declines.
In Romania, poor harvests combined with the surge in international cereal prices, and the depreciation of the exchange rate is putting pressure on producers to hike prices. The effects of this can already be seen. The most recent data from the National Institute for Statistics (INS) shows food prices advanced by 0.14 percent in July against June. The same month a year ago, prices dropped 2 percent.
But this 0.1 percent hike may be just the beginning, as it reflects the effects of the drought and exchange rate only to a degree, representatives of Bancpost told BR.
"While consumer prices reported a significant increase in July, we consider that the effect of the above mentioned factors has not been fully reflected. The evolution of the monthly inflation rate in July was mostly generated by external factors, especially the price of electricity. Therefore we expect prices to go up over the next months given the drought and the evolution of the oil price on external markets, which will be amplified by the leu's depreciation against the euro," bank representatives told BR.
As food prices represent one third of the consumer price index, inflation, too, is likely to rise."We anticipate the inflation rate evolution over the next period will be strongly influenced by the EUR/RON exchange rate and the evolution of food prices both at local and at an international level. (…) Bancpost's forecast regarding the annual inflation for end-2012 is 3.4 percent. This is within the limits announced by the central bank, which set a 3 percent annual inflation target, plus/minus one percentage point," said the representatives.
Heat triggers chain reaction
Higher costs of cereals and also utilities exert pressure on the food industry to hike prices. From vegetables and fruit to bread, dairy and meat, the coming months are likely to see shelf prices increase, producer associations warn.
The Ministry of Agriculture admits that due to the drought, there have been and will continue to be significant price increases for basic commodities such as wheat, corn and sunflowers, but these hikes shouldn't necessarily mean higher shelf prices, or at least not huge hikes. For example, a 30 percent increase in the cost of cereals generally means a price rise of about 3 to 5 percent for processed products, agriculture minister Daniel Constantin believes.
"The drought has affected the price of raw materials. But it remains to be seen to what extent this will affect shelf prices. I can't make estimations. We are a functional market economy and the market determines the price," added Constantin.
Companies from the food-processing industry are indeed caught between a rock and hard place. On one hand there is the pressure to hike prices due to the higher costs of raw materials and utilities, while on the other hand purchasing power remains low.
"The industry has been taken aback by the evolution on the raw materials market – cereals and animal feed," Grigore Horoi, president of Agricola Bacau, one of the largest local poultry producers, told BR. Although the upward trend in the cost of the raw materials used by the industry began at global level back in 2009, this year prices are reaching new records.
In 2009 meat producers paid about RON 660 (approximately EUR 156) for a ton of cereals but this year prices have exceeded RON 1,100 (approximately EUR 250). In just one year soybean feed has almost doubled its acquisition price, going from USD 413/ton in 2011 to USD 740/ton presently, said Agricola Bacau's president.
All in all, while over the past three years the price of cereals has increased by a cumulated 79 percent, the shelf price for poultry has gone up only by 6 percent. Everything hints at future price increases but producers are being cautious when making predictions.
"With regard to future price evolutions I would like to express my confidence in the rules of the market economy and the balance it naturally generates. But my statement or that of any other producer, or the alarming signals coming from the media, will not decisively change the reality we are living," concluded Horoi.
Waiting for a raindrop in the drought
VAT on agricultural products could be reduced from the present 24 percent level to 9 percent from 2013 in an attempt to help farmers and reduce tax evasion, the government previously announced.
The measure was welcomed by local farmers, the food industry and retailers, who said it would also help reduce prices. Representatives of the Romanian Association of Large Retailers (AMRCR) said its members would take steps to make sure shelf prices go down by as much as VAT.
Theoretically speaking, cutting VAT should also lead to a reduction in shelf prices sooner or later, Ramona Jurubita, tax partner at KPMG, told BR. "However, this depends on how elastic demand is for a specific product. The less elastic the demand, meaning that no matter the price consumers will continue to buy the product in principle, the more producers will tend to maintain prices at the same levels and thus increase profit margins," she explained.
In order for this measure to work and help reduce tax evasion, it is very important for the authorities to specify very clearly to which products the cut will apply, otherwise it could have exactly the opposite effect, stressed Jurubita. Reducing VAT on a limited number of products could prove difficult and would affect government revenues, said Bancpost representatives. "If this measure can be and is implemented, we forecast that its impact will be in the best case scenario neutral, given food price increases on international markets," they said.
Representatives of the International Monetary Fund reacted by saying that the institution doesn't recommend differentiated VAT levels as this leads to tax evasion, is not beneficial to consumers and can endanger the budget deficit target.