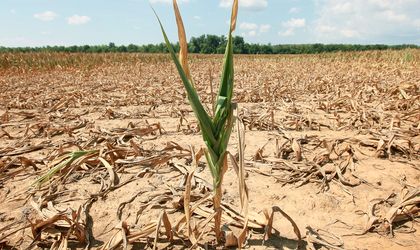 Laurentiu Baciu, president of the Romanian League of Associations of Agricultural Producers (LAPAR) has warned that the extreme drought felt in some parts of the country have affected Romanian agriculture, leading to massive crop loss amounting to EUR 2 billion.
The LAPAR representative said this would lead to an increase in prices for the next period.
Corn is the most affected crop, but other crops such as soybeans, wheat, canola, sunflower, and vegetables have also received damage.
"The drought has behaved differently depending on the area, the most affected being Moldova, where there was no rain since April, and since then drought has installed, and most crops are in danger. Other affected areas are south-western Banat, west and east of the country, especially in Constanta. Most affected are corn crops, starting from 30-50% up to 100%. In Moldova huge areas are 100% affected," said the LAPAR president.
He went on to say that LAPAR does not have an exact evidence of affected areas, but he estimates loss amounts to EUR 2 billion, specifying the sum refers to investments already made, not estimates on sale losses. He also expects the amount to rise as temperatures remain high and there is no precipitation.
He added that the coming period will certainly bring an increase in prices for fruits, vegetables and grains, as a result of the drought and some new taxes introduced by the Ministry of Environment.
The LAPAR representative announced they plan to sue the National Meteorology Administration (ANM), stating that their erroneous predictions contributed to losses of the farmers.
"We have written evidence from them (ANM representatives). We speak of their documents when they made those forecasts, those statements that have appeared across the media saying we would be flooded in April-May-June, when in fact drought installed since April, " said Baciu.
State aid producers affected by drought might receive is subject to European regulation, which provides that the amount of such aid should not exceed 0.6 percent of GDP.
In addition, thousands of households were left without water in wells due to the severe drought.
The irrigation system is only 10 percent viable, so that of 3.3 million irrigated hectares in 1989, now only 300,000 hectares are usable.
Natalia Martian