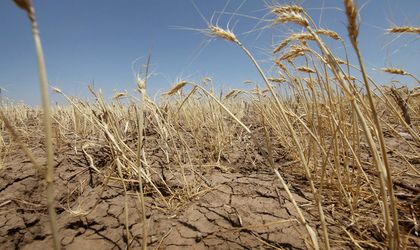 According to data from the National Meteorological Administration, a phenomenon of soil drought will affect Romanian soil during 2015.
Most affected areas will be Moldova and Banat, an extended area of Dobrogea, Crisana and Transylvania and part of South-East Oltenia. According to Gratiela Gavrilescu, minister of Environment, Water and Forests, this is due to low precipitation levels. During the last period, the average precipitation was at 20.6 mm, as compared to the normal value of 64.4 mm.
Even more, the European Centre for Medium-Range Weather Forecasts predicts the dry weather will expand across August also, further deepening the pedological drought, which could become "extreme and strong", according to Gavrilescu.
According to the minister, future climate scenarios in Romania indicate a gradual increase of temperatures in all seasons, most pronounced in summer and winter and decreased rainfall especially in the southern, south-eastern and eastern areas.
Agrostar, the National Federation of Unions from Agriculture, Food, Tobacco and connected services, warns that wheat, barley and canola cultures will be most affected, in a 30 percent proportion, but the vegetables and animal sectors would also suffer.
A forecast published by the National Meteorology Administration (ANM) shows the drought will vary from region to region during the autumn months, but it would be from moderate to extremely high. In terms of heat, the range will be characterized by warmer weather than usual across the whole country. Average daily temperature of the air will fall between 14 and 26 degrees Celsius, the positive thermal deviations of 1 to 5 degrees Celsius throughout the land. Maximum air temperature will be between 22 and 32 degrees Celsius, while the minimum will vary between 4 and 20 degrees Celsius in most growing areas.
"In recent years, extreme weather (drought, excessive rain, hail, etc.) is becoming more frequent and lack of a coherent policy on medium and long term in the agricultural sector is felt. Investments in irrigation were insignificant. These remain only declarative, and where there are irrigation systems electricity prices are very high. Romania should have an agricultural policy that takes account of climate change," said secretary general of Agrostar, Horatiu Raicu.
The federation supports, besides a clear strategy on the irrigation sector, the start of a program for setting up protective curtains, which help prevent desertification, landslides and maintain soil humidity.
Agrostar Federation includes over 45,000 members, farmers and employees in agriculture and related services, from public and private sector.
Natalia Martian