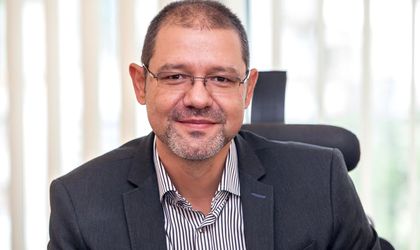 Alexandru Nastase, state secretary at the Department for Infrastructure Projects, Foreign Investments, Public Private Partnership (PPP) and Export Promotion (DPIIS), says foreign direct investments (FDI) to Romania are expected to reach at least last year's level of EUR 2.7 billion in 2014. Nastase says the department will act as a one-stop shop for investors looking to find out more about local business opportunities.
Alexandru Nastase is one of the invited speakers to the Foreign Investors Summit.
What is the purpose of the DPIIS?
The main objective of my department is to attract new investors and to promote the image of Romania at international level, in order to increase the economic attractiveness of our country.
We have to increase the number of greenfield projects here. We have to continue to help and support the investors that are already here, which have a good history and projects, like Dacia-Renault, Ford, and the automotive industry and the energy sector that have success stories.
So the purpose of my department is to become a one-stop shop for foreign investors so they will knock on our doors and we will try to provide them with information regarding where to invest in Romania, where they can be supported by the Romanian authorities and how they can supported – we are a contact point to offer them all information, mainly the information that you need to make the right decision to invest in Romania
How has the department's strategy been affected by the fact that the new PPP law has not yet been approved?
The Constitutional Court declared that we have an article that is unconstitutional regarding the clarity of the law. We did not agree with that decision, but we will try to redesign the small article in order for the bill to pass through the Parliament approval chain.
PPPs have to work for all countries and the most important thing is that they have to work for Romania, because at local level, in the countryside, there is significant need for the local authorities to welcome investors that can make investments that they can't make from their own money locally.
In order to attract further foreign investments we will try to put on a road show in various countries to promote the fields of activity where [businesspeople] can invest, promote the attractiveness of the country, show potential investors that Romania is able to welcome them and explain the advantages that Romania can provide over other states in the region.
When do you think the new PPP law will finally be approved?
The Parliamentary session has just started so we will rephrase the article that the Constitutional Court has rejected and we hope the law will be ready within a month. That depends on the legislative process.
From where do the investors looking to step into Romania come?
They are largely from the US, China and the Middle East. Most of those from Europe are big companies in the energy, transport, infrastructure, environment and automotive sectors.
From the Middle East we have mainly investment funds interested in buying or making direct investment in Romania. The Americans are from the service sector, consultancy and human resources. The Chinese are well known for being interested in infrastructure and the energy sector.
They have the capacity, ability and funds to create and construct here. We just have to let them, or to clarify with them the legal framework for entering Romania, because as Romania is an EU member state they must apply EU regulation when they pitch a project here.
Prime Minister Victor Ponta went on a three-day tour to China earlier this month and signed some new memorandums, agreements for new investments in the country. We also had the CEE-China forum last year in November. Why haven't there been any announcements regarding the start of investments since then?
Because the memorandum of understanding and the protocols we signed with the Chinese say that we intend to collaborate with them in order to create new jobs and investments in Romania.
We just have to find the legal way of doing business with China, keeping in mind that they are not an EU member state and yet have to comply with EU regulation when bidding for or pursuing a contract in Romania.
Of course, we are keen to welcome Chinese companies and we will try to find a way to create PPPs if possible or to facilitate this for the Chinese and for all companies.
We have a memorandum of understanding with China Development Bank. They are coming here with private investors, offering financial consultation and financing for projects to be implemented in Romania. Of course we didn't sign it at the level of the department, because the department doesn't sign contracts – it just provides the private investors that want to come to Romania with information.
When do you expect the first mega Chinese investment here in Romania?
I hope as soon as possible. The main thing is that we are making steps and pursuing goals, and we want to make a difference. There are things that we have done and we will go forward with this approach because as you see there are a lot of meetings with the Chinese and something has to happen. It must not be in vain.
FDI to Romania contracted by 10.3 percent to close to EUR 1.2 billion in the first half compared to same period of last year. Why did this happen and what is your estimate regarding the level of FDI by the end of the year?
I believe that we should attract at least EUR 2.7 billion, like we did last year. This is a difficult year because in Romania we are affected by the Ukraine crisis, which impacts all the states in the region. The international business community's perception of investing in a country very close to Ukraine is a bit difficult to quantify.
Even if we make every effort to attract foreign investments, we are affected by what is happening in the region and the geopolitics here.