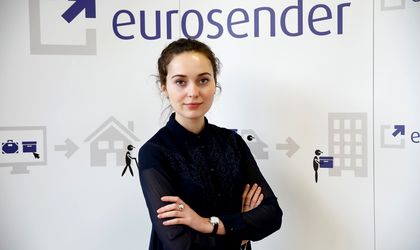 European door-to-door shipping platform Eurosender, offering integrated services in 26 countries, announced its launch on the Romanian market. The company set an objective for 2016 of 3.500 monthly orders on average, made by Romanian customers, with the a current average order value of EUR 45.
The targeted Romanian customers are abroad students and workers and also their relatives. In the B2B segment, Eurosender focuses on small and middle size companies which use shipping services on a regular basis, while also on those which, because of the small amount of parcels which they ship or inconstant shipping activity, have a low negotiation power with couriers.
In Slovenia, the company already has over 1,000 companies registered in its system, since the beginning of this year. Extrapolating this to the Romanian market potential, Eurosender is expecting a portfolio of over 2,500 small and medium companies within the next year.
"Over the next 3 years, our objective is to become the largest company which offers logistical services through online orders on the local market. Beyond  the large number of Romanian who have relatives studying or working abroad, the growth potential is determined by the main advantages offered to the clients – lower costs, comfort and time saving thanks to the easily accessible platform, order tracking and door-to-door shipping," said Mihaela Buzoianu, country manager for Romania.
Eurosender was founded in 2014, offering the same set of terms and conditions, regardless of what courier will be shipping the parcels, a EUR 200 assurance for each package, addressing both individuals and small and medium companies.
A few months after its launch as a dedicated platform for students and expats, Eurosender benefited of investments of EUR 25,000, being part of one of the largest media groups, ProSiebenSat 1, respectively EUR 40,000 through Sillicon Gardens fund, which allowed the company to expand toward the B2B segment. Recently, Eurosender further attracted an investment of EUR 220,000 from a group of Slovenian entrepreneurs, on the basis of an evaluation of the company at EUR 3.6 million. The company plans to attract further investments of several EUR million, of which a large part will be directed to the Romanian market, towards promoting the company and developing new partnerships.
Eurosender boasts shipping costs up to 70 percent lower than standard courier costs, because of the shipping volume. As an example, sending a 20 kg parcel from Romania to Italy or Germany has a cost of EUR 24.99, while from Romania to Great Britain or Spain of EUR 29.99. For any package which exceeds 50 kg, an individual offer is made.
Natalia Martian