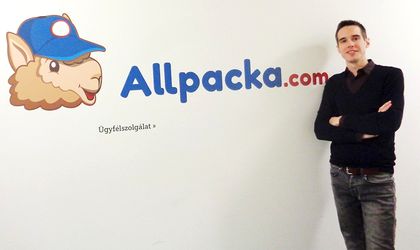 Allpacka.ro, a platform aggregating several parcel carriers to offer the end client a low price on domestic and international delivery, has entered the Romanian market after being present in Hungary for five years, according to a company press release. Targeting both companies and individuals, Allpacka.ro offers low cost delivery services through its online platform that also operates as a price comparison tool.
Colin Brian Snead, British CEO of Allpacka.ro, said that the company is a response to "a need we identified following a study conducted on small and medium enterprises (SMEs) in Romania, companies that don't have the capacity to negotiate prices with the big delivery services players already existent."
Companies can save "up to 50 percent of the cost" if they choose to use the online platform, according to the press release. In order to offer lower prices, Allpacka.ro places all the orders received through its platform to its partners (UPS, DPD, GLS, TCE, according to their website) by using a single account. This in turn allows them to benefit from discounts from their partners that are later on transferred to their clients through lower prices.
In the first months since its launch on the market, "we've managed to deliver of 100,000 orders and have in our data base over 3,000 clients," according to Carmen Patirlageanu, Allpacka business development manager. "In 2016, we are betting on a growth of over 100 percent," she further added.
Clients are able to check their orders's status through the online platform at any moment, to ensure their package if need be, but also to receive e-mail notifications regarding the status of their delivery.
At the moment, the company is present in Hungary, Romania, Slovakia and the Czech Republic.
Andreea Tint