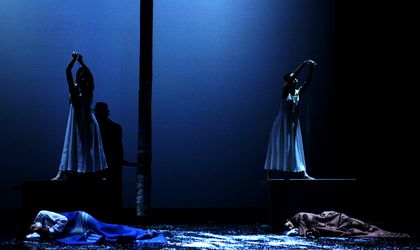 Bucharest National Opera
January 25, 19.00
Romanian choreographer Gheorghe Iancu returns to the Bucharest National Opera stage with a performance that had its Romanian premiere in 2009, Women. The ballet is based on the work of Anton Chekhov, and depicts a complicated love story between a young woman, her husband and her lover.
The original choreography of the performance, devised in 2002 for the Maggio Musicale Fiorentino Theatre, won the Danza & Danza choreography award. The set design and costumes are the work of Luisa Spinatelli, an Italian designer familiar with Iancu's performances. She was also responsible for the costumes for Swan Lake, another production staged at the Bucharest National Opera by Iancu.
The show features Russian music by composers such as Serghei Rahmaninov, Dmitri Sostakovici, Igor Stravinski and Paul Hindemith, as well as traditional Russian songs.
The tale begins when a man enters an inn carrying a child in his arms. The owners, two unhappily-married couples, are curious as to why the man is traveling alone with an infant, especially one who looks so sad. The man decides to tell them his story, marking the beginning of the 90-minute performance.