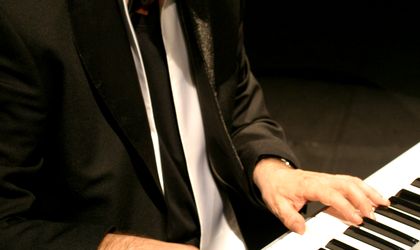 The first outdoor cultural event Green Hours International Jazz Fest took place in 2008. Now on its fifth run, the festival has become a must-see on the Bucharest music calendar.  Since opening in September 1994, Green Hours has offered a mix of jazz concerts, alternative theater (Green Hours has its very own Teatrul Luni / Monday Theater) and various cultural events (from art exhibitions to hand-made accessories fairs), making the idea of hosting a festival in its own garden the obvious next step.
Ready to welcome audiences who know that jazz is not mere tune selection, but an idea created first in the mind, inspired by the performer's passion, and then made into music, the fifth Green Hours International Jazz Fest brings together the Sebastian Spanache Trio (Timisoara), Adam Baldych Imaginary Quartet (Poland), Jazzybirds (Cluj-Napoca), Marius Popp (Germany), the Gilad Abro Trio (Israel),  Adrian Gaspar Trio (Austria) and Mircea Tiberian (in picture), Chris Dahlgren and Christian Lillinger (Romania/USA/Germany).
Tickets cost RON 50 per day or RON 150 for a full pass (four days).
Address: 120 Calea Victoriei.
oana.vasiliu@business-review.ro