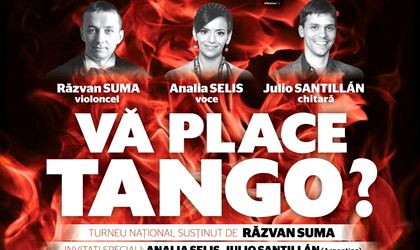 Cello player Razvan Suma will be joined by Analia Selis (singer) and Julio Santillan (guitar) on a 12-city tour around the country dedicated to tango music.
The tour includes 13 concerts in 12 cities starting from September 28 until October 24 2014.
The tour represents a first on the Romanian musical scene: it will be the first time when a tour of this size is dedicated exclusively to traditional Tango.
Moreover, Analia Selis and Julio Santillan are both artists originally from Argentina, the country that gave us Tango. The concert playlist will include tango, milonga and waltz pieces composed by some of the genre's biggest names,such as Astor Piazzloa, Carlos Gardel and Sebastian Piana.
Tour schedule
18 September, Iaşi – Palas Mall, 18.00
1 October, Râmnicu Vâlcea – Filarmonica "Ion Dumitrescu", Lahovari room, 19:00
5 October, Botoşani – Cai de Vis grounds- Bucovina, 19:00
9 October, Bistriţa – Sinagogue, 19.00
11 October, Cluj-Napoca – Casa Universitarilor, 19.00
13 October, Timişoara – Capitol room, 19.00
15 October, Baia Mare – Art High School, 18.00
17 October, Târgu Mureş – Culture house "Mihai Eminescu", 19.00
18 October, Arcuş – Castle Hall, 19.00
19 October, Sibiu – Thalia Hall, 19.00
22 October, Bucharest – Radio Hall, 19.00
23 October, Piteşti – Philarmonic hall, 19.00
24 October, Bucharest – Teatrelli, 20.00