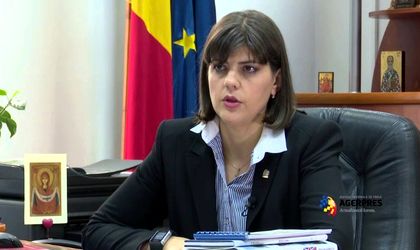 The head of the National Anticorruption Directorate (DNA), Laura Codruta Kovesi, had a reaction after the minister of justice, Tudorel Toader, initiated the procedure for her removal from the top management of Romania's main anticorruption institution.
"I will pursue the legal procedure and I will be present, whenever necessary, to answer, point by point, to all the statements made by the minister of justice," said Kovesi in a statement.
The minister presented an assessment report on DNA's activity in the past year, claiming that that Kovesi's management style "can endanger" the institution she has been leading since 2013.
"The DNA can't be identified with its chief prosecutor, whose actions proved that they can endanger the institution she leads through excess of authority, discretionary behavior, by defying the activity of the Parliament and by challenging the decisions of the Constitutional Court and its authority," said Toader.
The chief prosecutor of Romania, Augustin Lazar, said there was no legal ground to remove Kovesi from the DNA. Leaders of the opposition parties asked for Toader's resignation, while the ruling party PSD said it supported the report presented by the minister of justice.
Meanwhile, president Klaus Iohannis, who is legally entitled to decide whether he will accept or reject Toader's request, said that he is satisfied with the activity of the DNA.
Shortly after Toader presented the report, thousands of people took to the streets in major cities asking for the resignation of the justice minister.