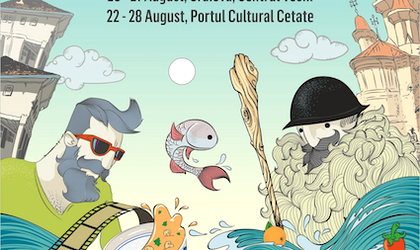 The Divan film and culinary art festival is bringing again the spirit of the Balkans to an old Danube grain-shipping port, with movies, documentaries, debates and workshops: Cetate Harbour. The event is takin place between August 20 -28 in two locations, Cetate Harbour and Craiova's main square. During Divan Film Festival, the movies are free of charge, as well as the camping.
What's on this year
This year, at Divan Film Festival, 10 long-feature films are in the program, as well as 26 short movies and three medium-length films, Marilena de la P7 (directed by Cristian Nemescu), Ekaterina Teodoroiu (directed by Ion Niculescu- Brună) and Bucharest (directed by Nicolae Traian Bratu).
Death in Sarajevo, the movie that  took the Golden Bear at Berlinale 2016, as well as Bal-can-can, The Parade and Dan Chisu's Non-Stop Bucharest will be screened during the festival.
For this edition, Italian programmer Massimiliano Narduli is part of the team and together with Marian Tutui, the artistic director of the festival, have made the short movies program.
A night in Tokoriki (directed by Roxana Stroe), recently awarded at Berlinale 2016 and TIFF, Bones for Otto (directed by Matei-Lucaci Grunberg), The Consecration (directed by Tudor Botezatu) and Gogulică Cheferist (directed by Cornel Dumitrescu) are some of the Romanian movies of the program.
The entire festival will be presented by actress Aida Economu and writer Adrian Telespan. The full program can be seen here.
Why coming to Divan Film Festival
Firstly, for the Balkan movies screened here. Our region is quite interesting in terms of cinema, so why don't you give a try?
Secondly, for the fact that during festival, the well known poet and writer Mircea Dinescu, who owns Cetate Harbour, will cook for the guests traditional Balkan food. Needless to say more.
Thirdly, for discovering a new place from Romania.
Oana Vasiliu