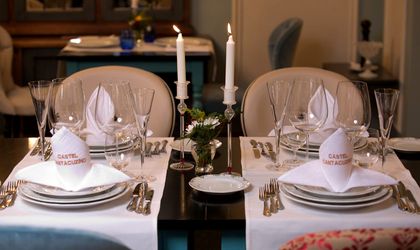 In Prahova Valley, almost 130 km from Bucharest, one of Romania's lesser known – but no less valuable – castles still stands after nearly 100 years, when Prince Gheorghe Grigore Cantacuzino, known as "the Nabob", inaugurated it.
Built between 1901 and 1911 at the behest of Prince Cantacuzino, and designed by architect Grigore Cerchez, the castle stands out for its large, imposing stone and brick building. The Cantacuzino compound in Busteni was nationalized in 1948, and used as hospital for Romanian military leaders of the time, and it was not until 2004 that it was given back to the Cantacuzino family. In 2008, the castle was purchased by a group of foreign investors, who decided to work to get it on the tourist map nearly 100 years after its inauguration. Currently, businessman Kurt Neuschitzer is in charge of the edifice. In December 2012, he also opened a restaurant in the castle cellar, named Canta Cuisine.
A visit to the castle can bring you directly to the restaurant, as Canta Cuisine is situated in the cellar of the edifice. Designed to blend upscale dining with a cozy atmosphere, it offers a culinary experience that is romantic and elegant. In summertime, one can dine on the terrace to a breathtaking landscape featuring the Bucegi mountains and Caraiman cross. Chef Romica Harabagiu has an impressive CV, with gastronomic experience in Japan and China, among other countries, and more than seven years near Marseille, France.
The menu is more contemporary French and international than a Romanian one based on secret castle recipes, but has some traditional dishes. The talk of the town is the mushroom cappuccino with truffles (RON 18), a delicious soup served with toast and milk foam. Chef Harabagiu told BR that the recipe was his own, with the truffles provided by a local supplier from Sibiu. As the chef said, if you don't find something to excite your taste on the menu, speak to him and you will receive an unexpected treat. The majority of the diners are connoisseurs, and fish and meat are popular entrees.
Oana Vasiliu