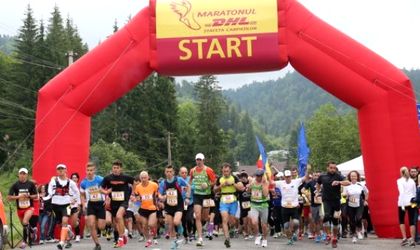 DHL Carpathian Marathon Relay celebrates its 10-year anniversary from the first competition, this year's edition following to be held at Poiana Brasov, on June 20.
According to a press release, the participation fees of this year anniversary edition will be donated to the Paralympics National Committee supporting the sports men at the Paralympic Olympics from Rio 2016. The marathon subscriptions can be performed on the website www.maratondhl.ro by June 13, while participants will be expected on the traditional Predeal – Paraul Rece – Rasnov – Poiana Brasov trail, the alternative forms of attendance including relay teams (6 persons running 7 km each; men, women or mixed) or individual runners.
Individual runners may choose to compete in the half marathon (21 km) or the marathon, on a distance of 42.195 kilometers. Minimum age for participation is 14 for team members and 16 years old for those who are individually competing. Participation is free for all participants under 18 years old.
The participation fee is RON 70 / person (EUR 16) up to March 31 for companies' representatives and individuals. The first 10 enrolled will receive a 10 percent discount.
Launched in 2005, DHL Carpathian Marathon Relay is among the first charity marathons dedicated especially to the companies. Every edition, due to tough but charming trail, which combines bitumen with forest road, the marathon gathered a lot of professional runners, but also amateur runners, jogging runners. Every year, the charity cause was an important reason to participate. This year, DHL Carpathian Marathon Relay will donate the raised money to the Paralympics National Committee in order to support their travel to Rio, attending the Olympics of 2016.
"2015 is a special year for the marathon. We celebrate 10 years from the first edition of 2005 since the DHL Carpathian Marathon Relay became the starting point for a lot of individual participants, but also for companies sustaining their teams, the sports and the social cause. In order to celebrate the first edition, we launched the club "The first 10" where we want to honor all the runners since the beginning and also to turn them into an example for making their hobby a job'' stated in the release Daniel Kearvell, managing director DHL Express Romania.
''A marathon is a range of experiences, thoughts and emotions. It contains drama, competition, fair play and heroism. Its essence is motivation. The motivation to start, to continue and not to give up. It might be difficult, full of obstacles and challenges, but, as in life, it needs a lot of determination, dedication, self-discipline and effort to turn dreams into reality,'' stated Gabriela Szabo, minister of Youth and Sports.
"Paralympic sports in Romania are going from strength to strength but we need equal support to our Paralympians as is given to the Olympic Team. Our athletes who are young people with physical disabilities are training very hard but with an extremely limited budget. In 2015 we have to participate in as many international competitions as possible in order to qualify our athletes NPC Romania needs your financial support to do this. We know we can bring back more medals in Rio 2016 but we need the support of the Romanian people behind us," stated Sally Wood-Lamont, president of The Paralympic National Committee.
Gabriela Constantin, 32, table tennis player and national champion, Alex Bologa, 18, the first judo player completely blind and Petru Ifros, 34, table tennis player and national champion are DHL Carpathian Marathon Relay ambassadors and a few of the athletes that will represent Romania at the Paralympic Games at Rio.
Staff