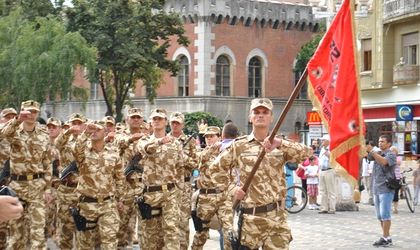 The ceremony organized for the return of the 2nd "Yellow Scorpions" Maneuver Battalion from Afghanistan took place on Thursday, August 22, in Victoriei Square, Timişoara, in the presence of the Defense Minister Mircea Duşa and the chief of General Staff, Lieutenant General Ştefan Dănilă. Hundreds of inhabitants of Timisoara participated also in the welcome ceremony in the honour of the almost 500 military.
"I congratulate you personally and on behalf of the military leadership for your professional conduct in the missions assigned to you by ISAF during the last six months. It is with great satisfaction that I see you followed my direct order of returning home safely", the Defense Minister said.
Minister Duşa emphasized that the troops of Timişoara were praised in all the messages received from the international partners from Afghanistan, that the way they accomplished their tasks in their area of responsibility was highly appreciated. Also, Mircea Dusa thanked ISAF and the American partners for the consistent support given to the Romanian soldiers in the Afghan theater of operations.
20 Romanian soldiers died in the eleven years since Romanian troops first arrived to Afghanistan. Minister of Defence Mircea Dusa stated at the end of June that all Romanian operational soldiers would return from Afghanistan by the end of 2014. According to the Minister, the number of soldiers will be reduced from 1,600 to 1,100 in the second part of this year, leaving approximately 200 soldiers, command officers and field experts by the end of next year to prepare the instruction of the Afghan army.
Photo courtesy of Ministry of National Defense official website
Oana Vasiliu