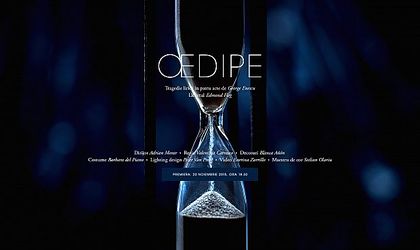 As author Noel Malcolm describes it, Oedipe is one of the least performed masterpieces of the 20th century. Despite George Enescu's self-imposed rules for composing the opera (it should not drag on; the public should not become bored; the listener should understand the text,) and the initially warm reception of musicians and critics, the opera (which does not feature any love duets) was not a big success with the general public when it first debuted in Paris in March 1936. The National Opera Bucharest has managed to again stage Enescu's only opera, this year's performance being signed by Valentina Carrasco under the wand of Adrian Morar.
The cast will include both soloists of the Opera, as well as guest artists: Davide Damiani (guest) – Oedipe, Horia Sandu –Tiresias, Dan Indricau – Creon, Liviu Indricau – The Shepherd, Marius Bolos – The Priest, Florin Simionca (debut) –Phorbas, Mihnea Lamatic – The Watchman, Vicentiu Taranu – Theseus, Lucian Corchis – Laius, Sidonia Nica – Jocasta, Sorana Negrea – The Sphynx, Ala Cheptini – Antigone, Antoaneta Bucur – Merope, Zoica Sohterus – A Theban Woman.
Tickets' price is between RON 10 and RON 150 and it can be bought online from www.operanb.ro. The public's access will be allowed starting 18:00.
Tatiana Lazar