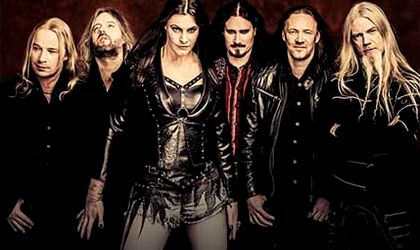 Being the only show in southeastern Europe by the most famous symphonic metal band in the world, the Nightwish concert can host over 5,000 rock music lovers from Romania, Bulgaria, Greece and other neighboring countries. According to statistics provided by the Facebook platform, Nightwish has over 90,000 fans in Romania.
In respect for the tragedy which took place in the Colectiv club, the band has recreated the entire show, the bandleader of Nightwish, Tuomas Holopainen, stated: "In respect of the fallen ones, we won't use any Pyro effects in this show, preparing a special production. The whole Bucharest concert will be dedicated to the memory of the victims of this terrible tragedy."
Nightwish organizes this tour to promote its latest album, a convoy of trucks engaged in the most ambitious project of the band until today, on a route that includes the concert in Bucharest, shortly after Prague. The tour continues through Budapest and will end with a show at Wembley Arena.
"Endless Forms Most Beautiful", studio album number eight of the band will be released in Europe on March 27, 2016. It is the first disc with the band's new lead singer, Floor Jansen and with Troy Donockley, who has gone from guest status to full membership. It is also the first without drummer Jukka Nevelainen, who took a break from band activities because of the chronic insomnia which forced him to abandon recordings for the album and the world tour. Percussion was taken over by Kai Hahto, who was seen with Swallow The Sun at ARTmania Festival Sibiu 2010.
The album was inspired from a famous quote of Darwin's Origin of Species, "endless forms most beautiful", which describes the evolution of species from a single common ancestor to the most varied living organisms. The album "focuses on the idea that all living things on earth are related to one another, have a common origin and that everyone is on the same level," says Tuomas Holopainen. "However, this idea should not degrade humanity, but symbolizes a communion at several levels of depth."
Tickets cost from RON 150 to RON 380.
Tatiana Lazar