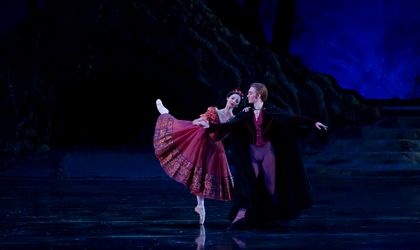 On December 16, the National Opera House hosts the latest premiere presented by the amazing ballet, DSCH. The Dream ballet.
The ballet performance is a mix between Alexei Ratmansky's choreography on Dmitri Shostakovich's music and the magic of Sir Frederick Ashton, based on William Shakespeare's play "A Midsummer Night's Dream". The ballet can also be seen on December 20, when it will be on stage again.
According to the National Opera House website, the DSCH chorographical work was created in 2008 for The New York City Ballet based on Dmitri Shostakovich's music (Concerto no. 2 in F major op. 102, composed in 1957). The name of the ballet stems from the musical motif DSCH (in German musical notation), used by the composer as a hint for his name and signature (acronym). The world premiere of DSCH on the 29th of May 2008 had an important cast, comprising of artists such as Wendy Whelan, Ashley Bouder, Benjamin Millepied, Joaquin De Luz, Gonzalo Garcia, with costumes created by Holly Hynes. Other revivals of this ballet were created for the Pacific Northwest Ballet from Seattle (USA), Teatro alla Scala in Milan and MariinskyTheatre in Saint Petersburg.
The one-act ballet The Dream, created by the English choreographer Frederick Ashton, premiered in 1964, at the Royal Ballet in London, as part of a triple bill for the Shakespeare quarter centenary, together with Robert Helpmann's Hamlet (1948) and Kenneth MacMillan's new Images of Love, based on themes form the sonnets. With conductor John Lanchbery, who arranged Mendelssohn incidental music, Ashton composed a libretto based on "A Midsummer Night's Dream" by William Shakespeare, though he omitted the court characters so that the ballet becomes an essay on love and human nature. The argument and reconciliation of Oberon and Titania is the main plot, supported by the entanglements of the four lovers.
Tickets are available from RON 10 to RON 150.
Tatiana Lazar