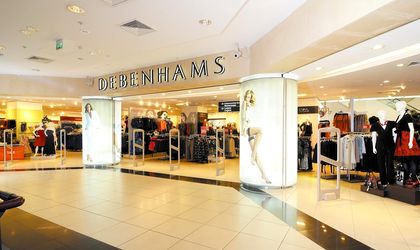 A Debenhams store could be opened in the Bucuresti Mall in the capital, about a year after local businessman Octavian Radu gave up on the franchise, according to Mediafax newswire. The retailer is presently negotiating to lease space in the mall, according to the same source.
Radu, who before the crisis owned several retail franchises through Rafar, the fashion franchise division of RTC Holding, opened the first local Debenhams store in 2007 in Bucuresti Mall. Over the following years, another six outlets were opened in Plaza Romania, Baneasa Shopping City and Sun Plaza, all in Bucharest, and City Park Mall of Constanta, Polus Center in Cluj, Lotus Center in Oradea, and Shopping MallDova in Chisinau. They had a combined sales are of some 13,000 sqm.
He businessman closed the last two of these store last year blaming it on low purchasing power and competition from players such as Inditex's Zara and H&M.
Debenhams is a British fashion retailer which presently operates a network of some 240 outlets in 28 countries.
Bucharest Mall was opened in Bucharest in the Vitan neighborhood in 1999, making it the first modern shopping mall to be opened in Romania. The project was developed by Anchor Group which also owns the Plaza Romania mall. Both malls are presently undergoing a refurbishing and transformation process.
Simona Bazavan