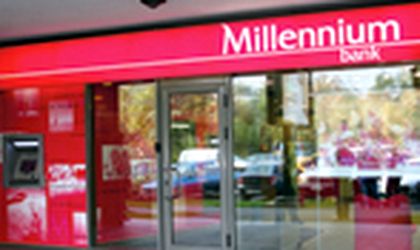 OTP Bank Romania, member of Hungarian group OTP, signed Wednesday the contract to acquire Millennium BCP in a deal worth EUR 39 million which includes shares and integration cost. The contract specifies that OTP will receive 100 percent of Millennium Bank Romania shares and the bank itself will be integrated in the OTP Bank Romania structure after legal formalities and approvals are obtained, writes Mediafax.
Discussions between OTP and Millennium began in October last year and in order to successfully conclude the deal, the Romanian National Bank, the Portuguese National Bank, The European Commission and the Competition Council all had to sign off, according to Laszlo Diosi, CEO for OTP Bank Romania.
"It will be a complete integration of Millennium. We will select and keep the best part of both banks. After we handle all the formalities, I estimate that the integration process will last about a year", according to the CEO.
Millennium Bank has a portfolio of 80,000 clients and a network of 56 offices and 58 ATM's. After integration, OTP will have 400,000 clients, 150 offices and over 160 ATM's.
"Acquiring Millennium is a wonderful opportunity, hopefully not once in a life time, but it does represent a huge step in our attempt to reach a market share of 5 percent. (…) It is medium term objective, in 5-10 years, which we can achieve only through acquisitions. Through organic growth it would be very difficult", Diosi added.
Asked if OTP is planning on buying other banks in Romania, Laszlo Wolf, deputy general director for OTP Bank Hungary replied:
"At this moment there is no such process in Romania.We're always looking but we currently have nothing planned for Romania. We must make a succesful merger and then we'll see if we embark on another enterprise", Wolf explained.
Luis Pereira Coutinho, member on Millennium bcp's board, said that he's quite sad to leave Romania but in the end OTP was chosen over Raiffeisen because they made the better offer.