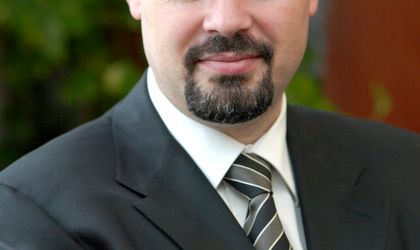 Florian Nitu, managing partner at Romanian independent law firm Popovici Nitu & Asociatii, expects the local  mergers & acquisitions (M&A) market to slightly pick up next year, after an atypical 2013 marked by a diversified mix of deals, citing growing interest from foreign investors to step into Romania.
By Ovidiu Posirca
What do investment funds think of Romania?
They are prospecting and one may see interest, in practical terms. And such interest may get projects at work if greater visibility for the country and market is made possible through public policies and immediate executive measures. If these factors combine, I would say there are chances to get foreign investors activity in Romania at a reasonable pace.
How would you describe 2013 from the M&A perspective?
It has been an atypical year because we have had a peculiar combination of deals involving distressed businesses, start-ups materializing, long-waited exits, entrepreneurial initiatives that have ripened and yielded results, a number of successful greenfield projects, but equally, work-outs and corporate-debt restructurings and failed privatizations projects.
Otherwise, I may say 2012-2013 are likely remain the bottom line of the M&A activity in the last ten years (and I am not referring solely to number of deals transactions, but to the amount of capital invested as well) and can only hope that from now on there can only be growth. And indeed, unless disastrous strategic moves at the level of government and the lawmakers are made, Romania should return to foreign investors' radar during 2014-2015.
How did Popovici Nitu & Asociatii's M&A practice do this year?
In our firm, the M&A practice has been within (e.n. the projected) the general parameters this year. The number of deals is slightly down on, but the work volumes have increased. We have had a high number of deals that did not complete and this is why our statistics may look inferior compared to last years.
Why did these deals fail?
Firstly, the lack of financing, so the intended leveraged transactions had failed, one in two, because of the banks. And what is worse, some of the banks we have met in deals this year have been all way through inconsistent, on one hand declaring interest and availability, on the other imposing conditions simply killing the deal.
Secondly, I can quote three projects that have missed closing because of differences of opinion/expectations related to the target's growth model. There is still a large mid zone between buyers' and sellers' expectation. Convergence is still far.
How many people are currently working in the M&A department of Popovici Nitu & Asociatii?
We are different to our competitors here. We are mainly a transactional law firm, meaning we focus on mergers and acquisitions, investment projects, deal making. As far as we know we are the only firm among the big players with four partners specializing in M&A. That enables us to handle say 6 to 8 transactions simultaneously, with a number of 22-25 lawyers. But there is always an M&A core team of 14 people. In overall the firms is grouping 80 lawyers and we got to this by growing organically in the past 10 years. Including other experts, staff, there are around 150 employees working in Popovici Nitu & Asociatii.
What is the average size of the deals you have worked on this year?
The average value is in the range of millions of Euro. I do not think we have done only deals over EUR 10 million, but also smaller ones, of EUR 3 million and EUR 5 million; the market is now at such standard levels.
What can you tell me about the firm's turnover this year?
We are in line with the budget. Income generated in November and December is getting more and more weight in the overall and this why I can't say now figures.  But one mention still, the time of annual growth in double digit rates is gone. However, we continued to expand the operations, in spite of the turmoil and recession.
What share of total business did M&A account for this year?
M&A has always generated around 20 percent; in good years even around 25 percent. Statistically, none of our four practice pillars (Corporate/M&A, Projects, Public/Private & Litigation/Arbitration) has generated in average more than 20 percent in the overall business.
What is the firm's profitability rate?
Our profitability rate is not as "spectacular" as that of others. We have had good years with margins of around 25-30% percent and less good years with lower margins. We've never had margins of 40 percent, while some competitors had 60 percent. I do not think these margins are healthy (from own business and market standing perspective) or sustainable, and frankly, I do not think they are accurate.
Is there still pressure on fees? Are you in the EUR 150-300 an hour bracket?
I read with sympathy statements about hourly rates competitor lawyers pretend they sign and collect from clients. Nowadays in Romania, it can't be that a firm, even with its most senior people, is constantly billing at EUR 300 an hour. If it happens a client is willing to spend EUR 300 on senior partner hour, that I agree, but not on regular basis.  But the funnier thing is that lawyers who say they are charging EUR 300 per hour come to public auctions bidding 40 Euro per hour, and that in legally-complex projects.
On our end, based on the market particularities today and our business model, our cost matrix, and head count treatment, we are offering our service for weighted average rates of EUR 150-EUR 170 per hour.
What are the law firm's plans for 2014?
There are a number of four business drivers in which we have extensively invested since incorporation and will continue to focus on them. First, we will always have an interest in developing long-standing relationships, proper partnerships, with key M&A players, such as institutional investors and investment funds.
Secondly, in recent years we have developed significantly the litigation and the international arbitration group, and will keep investing in resources and skills here.
Thirdly, there is the public to private equation, where we focus on the private component. We include here public acquisitions, infrastructure projects, energy projects, legal and tax.
And finally, there is the projects area, including real estate and project finance, green-field or brown.
ovidiu.posirca@business-review.ro