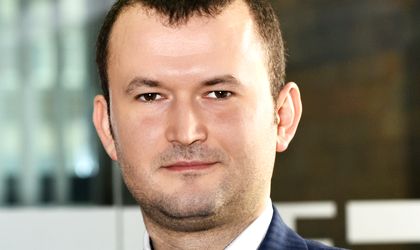 dcs plus, which delivers IT solutions for tourism players, received undisclosed financing from European venture capital firm Earlybird in May. CEO Cristian Dinca tells BR how the business he started went from a small start-up to a company with ambitions to offer services to any travel agency. He believes that after dcs plus enters the segment of cloud and mobile applications, the business will double in 2016.
Otilia Haraga
What is the story of your business?
I set up the company in 2002, when I was a first year student in the Faculty of Automation and Computers, at the Politechnica University in Bucharest. I started by creating websites and applications. In 2003, I got my first client from the tourism field, Aerotravel. Software development for travel evolved fast, and in 2006 dcs plus had customers only from this field. The largest players on the local market use our solutions and we have in our portfolio hundreds of customers from all around the world. Moreover, over the past 13 years, dcs plus has not lost a customer.
How did you receive financing from Earlybird?
The fact that we were on a niche and attracted increasingly important customers had made dcs plus attractive to investors since 2007. We did not actively look for an investor but we were approached by various funds and companies. We were never looking for capital; we were always profitable, and grew and doubled our business every year. But we wanted to test and see what these funds or companies interested in us had to offer, apart from financing. Before Earlybird, we did not accept any offer, either because they wanted to fully buy us, and this was not what we wanted, or because they were investment funds led by finance people interested only in the financial potential of the transaction. They were only focusing on figures and did not have an entrepreneurial philosophy.
Earlybird came with a totally different attitude. Before talking about figures, we spent nearly half a year talking about ideas, concepts and business models. Moreover, their board includes experienced entrepreneurs from the USA, and this shows in their business and strategy. We started talking about figures only after we realized we liked each other and had similar business philosophies. We set a growth target for the next two years after we saw the trends on the market. But this was a secondary matter. The dcs plus strategy remains the same and it matches Earlybird's philosophy: it is based on stable and long-term growth and development. So, the financing they granted us was a catalyst for the strategy, not a goal in itself. It was what attracted us and convinced us to strike a deal eventually.
How will you use the money from this financing round to grow the company?
We will invest in expanding and diversifying the products in our portfolio by launching cloud versions of existing solutions, so that we can target a more varied segment of players in this industry. While before, dcs plus products targeted average and large companies, after the launch of the cloud versions we will also cover the needs of small travel agencies.
We will enter the mobile segment by launching some applications that will be integrated with the customers' software infrastructure. We also plan to invest in marketing and human resources.
What turnover and profit did dcs plus post last year? What share of revenues is generated by external projects?
Last year, dcs plus posted a turnover of EUR 1.38 million and a net profit of EUR 220,000, which is only what was generated by the Romanian office. More than 50 percent of the business is generated by customers from abroad.
How many employees do you have and what positions are open?
dcs plus has 50 employees in its Bucharest office; around 25-30 of them work in software development and the rest in support and management. The company has also had a sales, marketing and support office in Paris since 2012, and we are thinking about opening a similar office in Dubai.
As far as recruitment goes, we are looking for talented and experienced programmers. We have a very good retention rate. (…) We develop our own products, our own intellectual property; we do not do outsourcing. We rarely hire juniors, but those we have were extremely talented..
What are your expansion plans over the next year?
The dcs plus development plans after the Earlybird investment include expanding on the SME segment by launching cloud versions of programs that are currently accessible only to large tourism players.
While we currently have several hundred customers, including the ones in Romania, with the launch of the cloud version, we will have a base of thousands of customers. We will be able to offer services to any tourism agency, no matter its size.
We estimate that the entrance on cloud and mobile applications will double our business in 2016 compared to this year.
Dcs plusOur recent projects include the TravList app, cloud projects, several new customers in Nigeria and a new customer in Australia. Players in this industry need reliable solutions to support their daily activities, grow their sales and keep their costs under control and even reduce them. With the new launches, we also wish to expand to new markets. dcs plus is currently active in 45 countries worldwide.