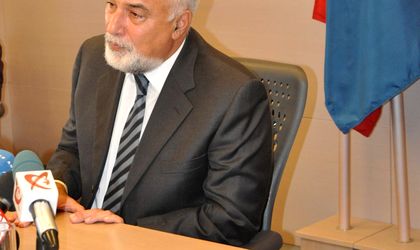 Romanian PM Victor Ponta has nominated finance minister Daniel Chitoiu as interim economy minister after Varujan Vosganian resigned from this position on Monday.
Vosganian, a member of the National Liberal Party (PNL), has resigned shortly after the Parliament rejected the proposal to start a criminal case against him. The Directorate for Investigating Organized Crime and Terrorism (DIICOT) requested this September to start prosecution against Vosganian, alongside former economy minister and member of the opposition Democratic Liberal Party (PDL) Adriean Videanu for "plotting and undermining the national economy". They have allegedly enabled Interagro, a company owned by Romanian businessman Ioan Niculae, to secure gas contracts from state company Romgaz at preferential prices. Niculae tops Forbes 2012 billionaire's list with an estimated fortune of between EUR 1 to EUR 1.1 billion. The DIICOT said the operation took place between 2006 and 2010, causing a loss of EUR 130 million to the state.
Crin Antonescu, the president of the PNL, said Vosganian is innocent but chose to resign as economy minister in order to not put the government in a difficult position.
Until PNL will make a new appointment, Chitoiu, also a PNL member, will serve as interim.
Vosganian (55) has been a member of PNL since 1990. Since 2007 he is one of the party's vice-presidents. He has previously served as economy minister between 2006 and 2008.
Chitoiu (45) too has previously served as economy minister between May and December 2012. He is presently also holding the deputy prime minister position.
Simona Bazavan