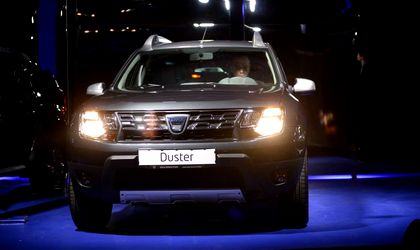 Romania's Dacia, the car maker controlled by France's Renault, said on Tuesday its global sales rose by 19.3 percent to a fresh high of 429, 540 units last year, despite poor market conditions in Europe and Eurasia, its main growth regions.
In Romania, Dacia gained 12.4 percent in the sales to 24,890 units, increasing its market share by 5.4 percent to 31.6 percent.
Dacia Logan Sedan was the best sold model locally with 10,000 units, followed by supermini model Sandero and the Duster SUV.
"We have been able to grow our market share in companies and individuals, as we were significantly helped by the Remat program (e.n. cash for clunkers scheme)," said Thomas Dubruel, commercial director of Renault Group in Romania. Companies have generated 77 percent of Dacia's total sales in Romania.
The top selling destinations for Dacia are France and Germany, with 94,000 units and 47,000 units, respectively. In Algeria, Turkey, Spain and Morocco, the car maker reported sales over 30,000 units.
Over 290,000 cars under the Dacia brand have been registered on the European market last year, which is equivalent to a 2.1 percent market share.
Dacia manufactures cars at its plant in Mioveni, Pitesti County.
Ovidiu Posirca