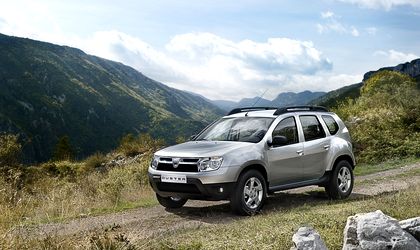 Sales of car maker Dacia, owned by French Renault, added 4.8 percent to 359,822 units worldwide and remained market leader in Romania with a 26 market share, although lending restrictions and the second hand imports sent sales down by 28 percent to 22,148 units.
Dacia said it registered an "exceptional" year in terms of sales of foreign markets, selling 337,674 cars in 43 countries. The carmaker launched last year six new models and boats the youngest range of vehicles in Europe.
The international sales advanced by 8 percent, helped by a 26.6 percent boost from markets in the Euromed – Northern Africa and the Mediterranean Basin.
Sales in Western Europe remained stable at 230,000, against an 8.6 percent decrease of the market in this region.
France remains the leading market for Dacia, with sales of 84,522 units. Germany and Algeria followed with 46,590 and 41,710 units, respectively.
Romanian sales take a hit
Dacia's sales in on the domestic market reached 22,140 units in 2012, down 28 percent from the 2011 level of 30,867 units.
"Last year saw a new fall of the overall market of new cars, which is at a level that hasn't been registered since the start of the century, while the second hand market of imported cars soared by 75 percent," said Dacia in an official statement.
Sales were also influenced by lending restrictions, mainly for retail customers. The share of these clients in the overall Romanian sales lost 50 percent last year.
The most popular Dacia models in Romania, where the Logan sedan and the SUV Duster, which sold 9,208 and 5,447 units, respectively.
Ovidiu Posirca