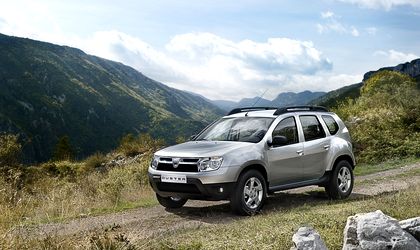 Carmaker Dacia, controlled by France's Renault, announced last week that its global sales had gained 19.3 percent to a new high of 429,540 units, despite shrinking demand for new cars in its core markets in Europe and Eurasia.
[restrict] Local sales rose by 12.4 percent to 24,890 units, on a market that posted the poorest performance since 2000. The best sold model was the Dacia Logan Sedan, followed by the supermini model Sandero and the Duster SUV. The carmaker said its local sales had risen in volume for the first time since 2007 and its market share climbed to 31 percent, the biggest globally.
"We have been able to grow our market share in terms of companies and individuals, helped by the Remat program (e.n. cash for clunkers scheme)," commented Thomas Dubruel, commercial director of Renault Group in Romania. Companies generated 77 percent of Dacia's total sales in Romania.
The firm, which makes cars in Mioveni, Pitesti County, announced last week the launch of a massive revamping of its network of dealerships in Romania that should be completed next year, as part of a consolidation effort.
"Our dealers are not doing that badly. 2013 was better than the previous year, because we sold more and on average each dealer sold two more cars. This is a message of confidence for our dealers, in the network, in Romania and in the relaunch of the market," said Dubruel.
Dacia marches on abroad
The carmaker said its deliveries abroad rose by 26 percent last year to pass 404,000 units, out of which over 290,000 sales were made in Europe.
France remained the main market for Dacia with 94,000 sold units, followed by Germany, with 47,000. Over 30,000 cars were sold in Algeria, Turkey, Spain and Morocco. Dacia entered the British market last year where it sold over 17,000 vehicles. [/restrict]
Please register to read this full article and other BR Exclusive materials.